Save Up To 250g With Berd Spokes
Upgrade your next set of wheels with Berd spokes, to turn your XC wheelset into a Pro marathon race wheelset. Berd spokes are made from an advanced polymer called Ultra High Molecular Weight Polyethylene (UHMWPE). UHMWPE has 12 times the strength-to-weight ratio of steel and floats on water. This means that you can enjoy substantial weight savings, when your wheelset is laced using these spokes.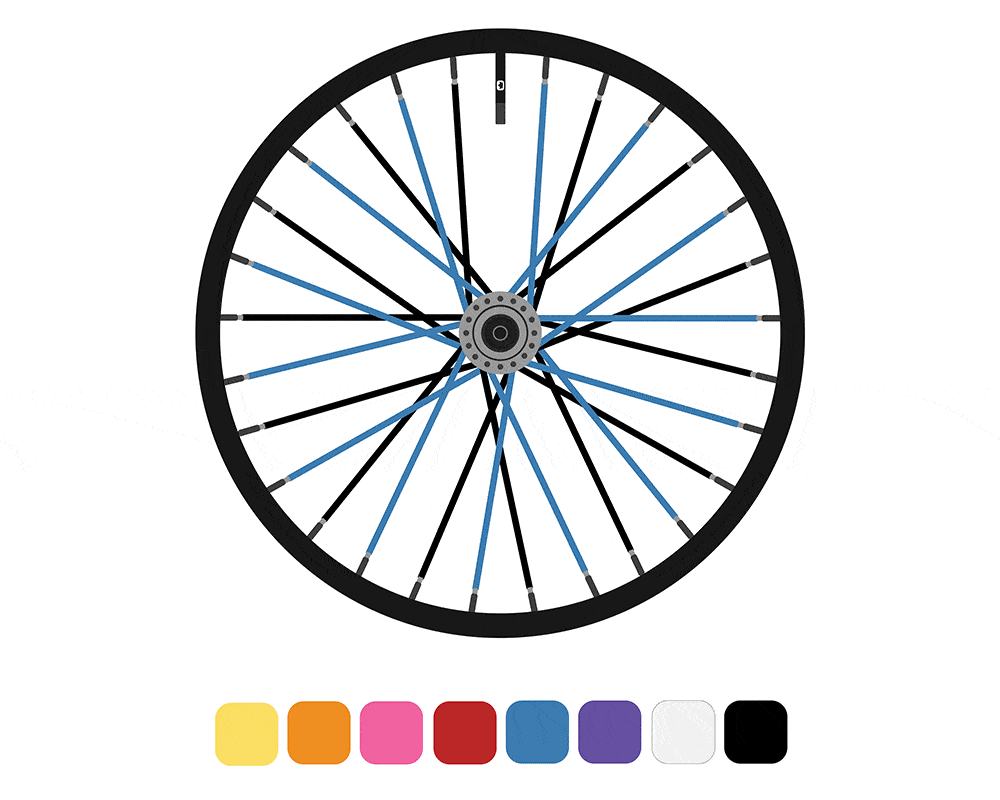 Now Offering Custom Berd Colors
Bring your future Berd build to the next level with our custom-painted spoke program. We offer standard white and black Berd spokes as well as Berd's full line-up of alcohol based paint colors including, Finch Yellow, Oriole Orange, Robin Red, Flamingo Pink, Blue Berd, Black Berd or Martin Purple. Colors are applied to white Berd spokes. Any color of Berd spoke can be changed to black in the future with Black Berd paint. We have some custom options directly in our Berd spoke builders,  or you can fill out the forms below and email them to ride@noblwheels.com to order. If you just feel like coloring for fun, you can also download our 28h Berd coloring sheet.

Reviews
"10 out of 10. So, I ride trails and race XC. These wheels were just the upgrade I needed and they look sick. I haven't had to retension the spokes yet, but I know it's coming. Unfortunately, you're pretty much going to need to if you run BERD spokes. To me, the vibration damping is worth it."
Joel – TR35 Industry Nine Hydra BERD Wheelset
Reviews
"I've found Berd spokes to be quiet, comfortable, and durable. They are my #1 choice when building the fastest and lightest wheels for my personal bikes."
Trevor – CEO, NOBL Wheels
Reviews
"I rode the wheels for the first time yesterday and the experience was unlike any other I have had before! The acceleration and feel was worth every penny!."
Evan – TR32 DT130EXP Berd wheelset
Berd Spokes / Frequently Asked Questions
This resource page is here for all of your technical needs.  Whether you're a wheelbuilder, mechanic or just looking for maintenance tips, it can all be found here.  If you're looking for something and you can't find it,  then please contact us at ride@noblwheels.com.  Our customer service team is here to help you out!
The Basics About Berd Spokes
How much weight does it save?
Using Berd spokes, you can save between 125 and 250 grams per wheelset.
Is my hub warranty void?
From all of the manufacturers we contacted they will maintain their hub warranties for all parts but the modified hub shell. We modify all J-bend hub shells for Berd, however we do not modify straight pull. For modified hub shells, the hub shell warranty is void.
Do Berd Spokes come with a Warranty?
Berd offers a Limited Warranty on its spokes to be free from defects in material and workmanship, for the period of 5 years from the date of purchase. The final decision of whether the product is defective will be made by Berd. The Limited Warranty does NOT cover damages resulting from improper use, neglect, abuse, misuse, or alteration of the products.
What discipline are Berd spokes for?
Berd spokes are most commonly used for cross country and gravel wheelsets as they are super lightweight, durable, and quiet. We find the ride quality is slightly less stiff than some conventional spokes, so road riders desiring a high amount of wheel stiffness may prefer steel spokes.
While Berd spokes are certainly strong enough for Enduro use, the cost vs. weight ratio make them an attractive option for disciplines where light weight components are important.
Are Berd spokes strong?
In our experience, Berd spokes are similar in strength to DT Swiss Competition Race or Aerolite and Sapim CX-Ray or D-Light spokes, but with the benefit of being significantly lighter.
Berd spokes have excellent abrasion resistance and are very difficult to cut through (but it's fun to try on test spokes!). The main potential challenge of a Berd build is making sure hubs are prepared properly before building. If a spoke is pulled through a hole forcefully and the hub has sharp edges, the spoke may be damaged which could result in compromised strength.
Do Berd Spokes have a weight limit?
Technically there is no weight limit on Berd spokes, but you should run a higher spoke count wheel as well as choose rims that are deep and stiff for heavier duty applications.
What are BERD Spokes made of?
Berd spokes are made from an advanced polymer called Ultra High Molecular Weight Polyethylene (UHMWPE). UHMWPE has 12 times the strength-to-weight ratio of steel and floats on water.
Do Berd Spokes make noise?
In our experience Berd spokes are quieter than steel spokes, and much quieter than bladed spokes. Bladed spokes coupled with shallow and more flexible rims can make noise because the spokes tend to rub together when the wheel is under torque. This makes Berd spokes an excellent choice for lightweight XC wheels.
Can you get colored BERD spokes?
Yes! We offer Berd spokes custom painted using their high-quality alchol based paint. The colors we offer are, Finch Yellow, Oriole Orange, Flamingo Pink, Robin Red, Blue Berd, Martin Purple and Black Berd.
We actively stock black spokes and carry limited white spoke stock. We have found that the white spokes are harder to clean so we prefer to use black.
Color or fill out the forms below, and then email them to ride@noblwheels.com to order custom Berd colored spokes.
Want to color for fun, download our NOBL Berd coloring sheet.
Does my Berd wheelset need any special maintenance?
Berd spokes are far lighter and just as strong as their traditional steel counterparts but due to the bedding-in process of the fibers, the wheels can lose up to 30% of their initial tension after 3-6 months of riding depending on usage. We recommend checking your spoke tension after 2-3 months and adjusting accordingly.
Adding tension will require a truing stand, a Park Tool TM-1 Tension Meter, the Berd Spoke Holding Tool (to stop spokes from twisting up) and the Berd External Nipple Tool. You can get away with using a traditional double square wrench to add tension to the spokes if you don't mind removing your tire and any tubeless tape. As a reminder, you can purchase any Berd related small parts at noblwheels.com.
To bring the tension back to the desired 70 KGF (equivalent to 12 on the Park Tool Meter) start by adding 2 full turns to each nipple, then check to make sure your tensions are still even. Next you may have to do some minor truing by turning the nipple on the opposite side of the affected area ⅛ – ¼ turns until the rim comes back to straight.
How do I clean the spokes?
Using dish soap and warm water, clean each spoke with a lint free rag. Do not use pressured water directly on the spokes.
How do I replace a spoke?
Can I use a steel spoke as a replacement?
If you break a spoke, it's best to replace it with a Berd spoke rather than a steel spoke as the two spokes behave much differently during riding. In the unlikely event that you do break a spoke when riding, it shouldn't cause an issue to finish your ride gently before replacing the spoke.
What if I drop a chain into the spokes?
We encountered this scenario during testing and we were able to carefully pull the chain out without issue. This needs to be done carefully to not damage the spokes. If the chain is badly stuck in behind the cassette, it would likely be safer to remove the cassette as opposed to pulling the chain out forcefully. We suggest taking extra care in adjusting the limit screws on your derailleur to prevent the chain from coming off into the spokes.
How To Lace and Build With Berd Spokes
Do you need to modify the hubs?
We don't need to modify straight pull hubs in most cases as we use a special Tangential Straight Pull Insert to prevent abrasion where the spoke exits the hub. For J-bend hubs, we do modify the hubs by slightly rounding out the hole openings. Hub manufacturers are unlikely to recommend the use of metal spokes after this modification, so by choosing Berd spokes and J-bend hubs you are making a commitment for the lifetime of the hub. This also means that your hub shell warranty is void on J-bend hubs.
Can you build with BERD Spokes on any wheel?
We are unable to use Berd spokes on radially laced (0-cross) straight pull wheels or hubs with a carbon shell.
Are the spoke lengths the same as metal spokes?
No. Berd spokes stretch out significantly during the build process compared to conventional metal spokes, so the lengths will not be the same for any given wheel build.
I'm building my own wheel with Berd spokes, what nipples should I use?
The best nipple to use with Berd spokes is a Double Square Sapim Secure Lock. The spokes will stretch as you build up tension and these nipples have ample space for thread engagement. They also resist loosening off, are corrosion resistant, and are very strong.
Shoot us an email if you'd like to make a purchase!
How do you connect BERD spokes to a rim?
Featuring a 2mm threaded steel spoke bonded to top, Berd spokes connect to the rim in the same fashion as a conventional steel spoke. Due to the stretch of the spoke, double square nipples are used, allowing more operating room to tighten the spoke during the build process.
These Double Square Sapim Secure Lock nipples are already our favorite nipple option and used in virtually all of our builds due to their high corrosion resistance, strength, and their secure lock function.
How do you connect BERD spokes to a hub?
The spoke is pulled through the hub with a temporary Wire Loop and a hooked tool (Berd refers to it as their "Pulling Tool"). After the spoke is pulled through, the Wire Loop is removed and a special Berd spoke cut-off is placed in the loop of the spoke. When the spoke is pulled away from the hub, the loop closes on the cut-off, preventing it from coming back through the hole in the hub.
How do BERD spokes attach to hubs?
There is a small loop at the end of each spoke. You place a special piece of wire through the loop and use a tool with a hook on it to pull the spoke through the hole of the hub. Then remove the tool/wire, place a ~5mm piece of material (same material as the spoke) through the loop, pull on the spoke to close the loop.
How do I stop the spokes from twisting while building?
There is a traditional 2mm threaded spoke bonded to the end of every Berd spoke with a wrench flat. Berd makes a Spoke Holding Tool to hold the spoke while building. Using this tool in one hand and a T-handle double square wrench, twist the nipples from inside the rim to add tension. If you need to work on the wheel and do not want to remove the tire/tape, Berd also makes an External Nipple Wrench that plays nicely with their Spoke Holding Tool.
We keep these tools in stock so if you'd like to purchase them, take a look here.
What is the final tension of BERD Spokes?
The final tension of Berd Spokes is 78kg/f on the high tension side of the wheel. On a correctly calibrated Park Tools TM-1 gauge it should read 12. While tension could safely be between 10 to 14 on this gauge, the more important thing is that it's consistent between the spokes.
As a general rule, mountain wheels that are broken in should be brought back up to 11-12, and road disc wheels can be a bit lower (10 is okay) because they are generally deeper and stiffer than mountain wheels. Note that the tension tends to drop overnight, so check if additional tension is needed over time.
How to properly measure the tension of BERD Spokes?
As Berd spokes are not perfectly round, it can be a bit harder to get an accurate reading with a tension meter. Take care to move the gauge in a few places and at different angles to get a good average reading. Also, ensure you're placing the gauge in the middle of the spoke so there is even distance between the gauge and the rim and the gauge and the hub.