Need a little one-on-one help?
Schedule a 15 minute video call with a member of our experienced team here at NOBL wheels. They'll be there to answer all your burning questions about a new build.
Sign Me Up!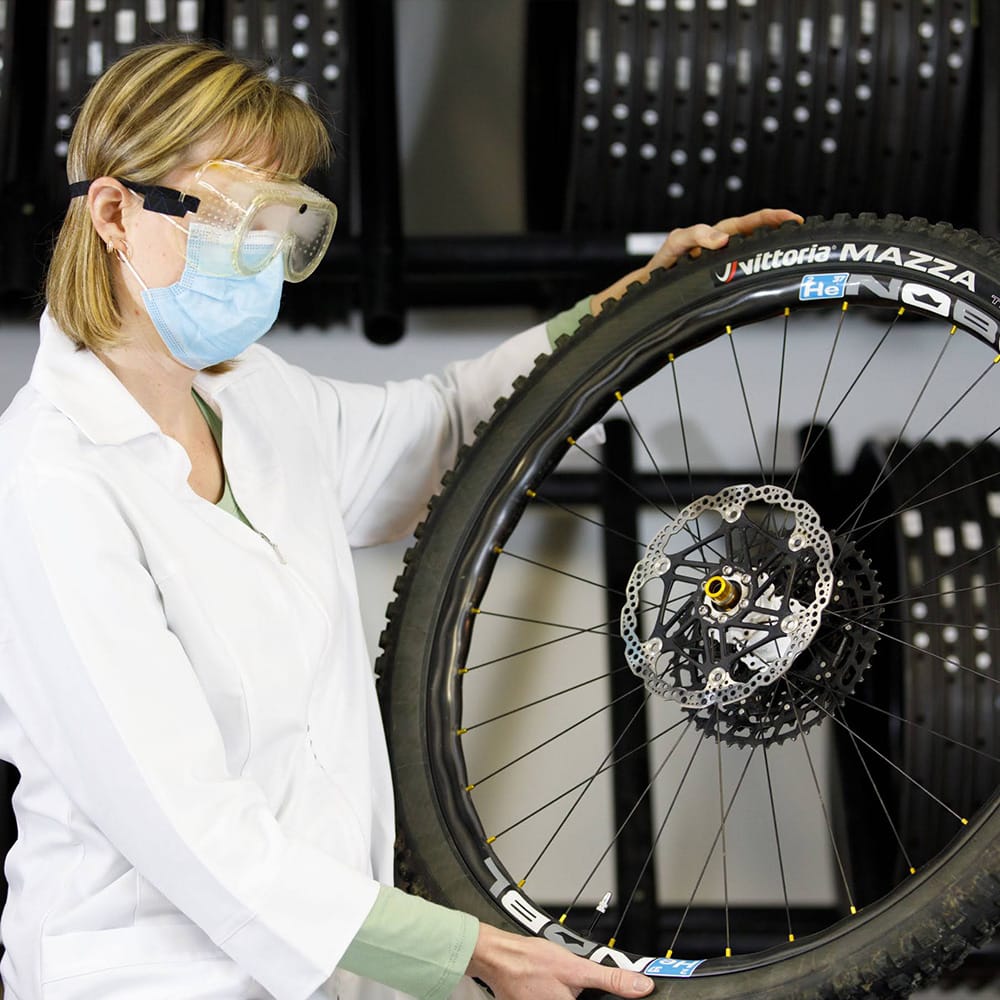 Will I have to pay Tax?
We ship from British Columbia in Canada. Canadian customers will be charged tax at checkout and you will not have any fees collected on delivery. Customers outside of Canada are not charged tax or duty by us, we ship tax and duty collect. The amounts that could be charged are based on your State/Countries local rules. At a minimum you should anticipate paying sales tax, the same as if you had purchased from a local store.
Do your rims come tubeless ready?
All of our wheelsets come taped with valves and ready to go. Simply throw on your tires with sealant and you're good to go! Rim only purchases do not come with tape and valves, but can be purchased separately.
What is SplitIt?
NOBL has partnered with Splitit, so you can pay for your order in simple interest-free monthly installments using your existing credit card. Learn more here: noblwheels.com/pay-with-splitit/
Do You Offer Urgent Builds?
Yes. We can bump your wheels up in our build queue, to get them ready for shipping, or pickup, as soon as possible.
Urgent builds are subject to their own build queue times. NOBL Wheels will communicate our current priority turnaround time with you directly. NOBL Wheels reserves the right to adjust/refuse priority build requests.
Our Urgent Build fee is $125 CAD / $100 USD
Where are our wheels assembled?
Our wheels are built in beautiful British Columbia at our warehouse on Vancouver Island. We take immense pride in putting together top quality wheels that are designed to handle whatever you throw at them!
Can I make changes to my order after it has been placed?
Due to order volume and supply chain challenges, any change-request received more than 24 hours after an order is initially placed may be subject to a $25 fee and result in the order losing its place in the build queue. If you are unsure about your selection before placing your order, please reach out to one of our customer service staff!
What kind of packaging do you use?
We love being outdoors and care about the environment. One way we're working towards a sustainable future is by ensuring all of our shipping materials contain zero plastics and are 100% recyclable.
Do you build with Berd Spokes?
Do your wheels have a weight limit?
Weight limits are subjective, as they do not take into account the ride style of the rider. A 280lb rider who is exceptionally smooth, will put less abuse on a wheel than a 150lb rider that is casing jumps and crashing on the regular. It's for this reason that we do not have an official weigh limit. We have satisfied customers of all ride styles and weights, ranging up to and over 300lbs.  A large part of what makes a dependable wheelset is the part selection. If you're unsure of what wheelset will best meet your needs, then please contact us!
What is your Return Policy?
We take pride in building you a wheelset that works for your needs and brings out the best rider in you. Customer satisfaction is of utmost importance to us! We encourage you to call or email us before your purchase so we can discuss which wheelset will work best for you. Ride style, rider weight and the type of terrain you ride all play a big factor in determining your wheel requirements That being said, if the wheelset you receive is incorrect or doesn't meet your requirements we have a return policy for this reason.
Returns are accepted within 30 days of receipt of delivery (determined by the tracking number delivery date). Our return policy covers the product cost only, no other costs. Shipping costs are the consumers responsibility and will not be covered unless the incorrect product was received.(Based on the invoice) The product must be unused and in it's original packaging.
Refunds are processed once the product has been delivered back to us. Due to the custom nature of our products and supply chain challenges, there will be a 5% restocking fee on all correctly fulfilled orders that are returned. If the product has a significant reduction in aesthetic appearance or performance, the refund value will be left at our discretion.
If you would like to return your wheelset, please email us with your information and  a little background on why the wheelset wasn't working for you.
What is your Cancellation Policy?
A 5% cancellation fee may be charged to cover any transaction fees incurred by NOBL for your order. Order changes can be made within a 24 hour period at no charge.
Taping your Rims
​The video shows how to tape your rims. Ensuring the rim surface is clean and free of oil and dirt is essential to creating an effective tubeless seal. Not doing this properly will result in leaks.
Cushcore Install
Thinking of using Cushcore? In this video, we share some tips on how to install it
Sealant and Tires
All of our rims are designed to have tires mounted without needing a compressor. The key to this is using a tubeless ready tire, sealant and ensuring the tire beads are in the center of the rim channel during inflation.  Check out the video below to learn how to mount your tires.
Valve Leak
This video explains possible issues that your tubeless setup could have if you see sealant leaking from the valve area
Spoke Tension
All NOBL rims must be build to the specified tension range using butted spokes. Building outside of this range voids warranty and leads to premature failure. Used of straight gauge spokes is prohibited and will result in rim damage.
The optimal range for spoke tension is 120-130kgf.  At no point should the spoke tension exceed 135 kgf.
For more information take a look at our Wheel Building Guide!
Wheel Building Components
All NOBL rims  MUST be built using a tensiometer.  This is essential for building the wheel correctly.
Butted spokes must be used. Used of straight gauge spokes voids warranty. We recommend using Sapim spokes for all NOBL builds.
Alloy or brass nipples can be used. Our preference is Sapim Secure Lock Alloy nipples. They have proven to be durable, corrosion resistant and light.
For more information take a look at our Wheel Building Guide!
Hydra Hub Overview
Thinking of building with the Hydra hubs and want a bit more insight? You need to watch this video!
2015-2017 ERD's
| | |
| --- | --- |
| Rim Model |  ERD |
| 29″ TR28 | 592 |
| 27.5″ TR33 | 556 |
| 29″ TR33 | 595 |
|  29″ TR36 | 590 |
| 27.5″ TR38 | 545 |
| 27.5″ TR45 | 572 |
For more ERD information refer to the chart in our Wheel Building Guide!
Which hub to choose?
Need some help figuring out which hubs to go with? In this video we walk you through the considerations.
You can learn more about the hubs we build with here: https://noblwheels.com/nobl-hub-partners/
Do NOBL rims have an asymmetric offset?
Yes, our rims have a 2mm asymmetric offset.
Spoke Length Calculator
Trying to figure out what spoke lengths you need?
Check out our guide HERE
What maintenance should I do?
Your NOBL wheelset is built to provide you with years of dependable service.  However, it is important to regularly inspect your wheel set to ensure it is in good condition and performing optimally.
We've created a guide for inspecting your wheels HERE
NOBL/Onyx Steel Inserts
In this video we show you how to repair the protection clips on the aluminum freehub on a NOBL or Onyx Classic Shimano HG freehub.
​
Industry Nine Torch Freehub Service
​In this video, we show you how to service your i9 Torch freehub
Hub Maintenance
Keeping your hubs spinning freely, is essential to the performance of your wheelset. All of our hub partners have specific maintenance requirements for their hubs. Check out the links below for their respective support pages.
NOBL Hub Torque Caps
In this video, we show you step by step how to install torque caps on a front NOBL hub
How to Install Crown Graphic
In this video, we show you step by step how to install the NOBL crown graphics on your rims
Decal Application
Customizing your NOBL wheelset is a great way to make it pop and stand out. All of our decals are made of durable 7 year vinyl that is designed to withstand the elements while still being removable. 
Check out the video HERE to see how to install your decal kit on your rims.
Hope Freehub Swap
In this video, we walk you through how to swap freehubs on a Hope Pro 4 hub
Oil or Grease Industry Nine Hydra
In this video, we compare the differences between using oil or grease in your i9 Hydra freehub