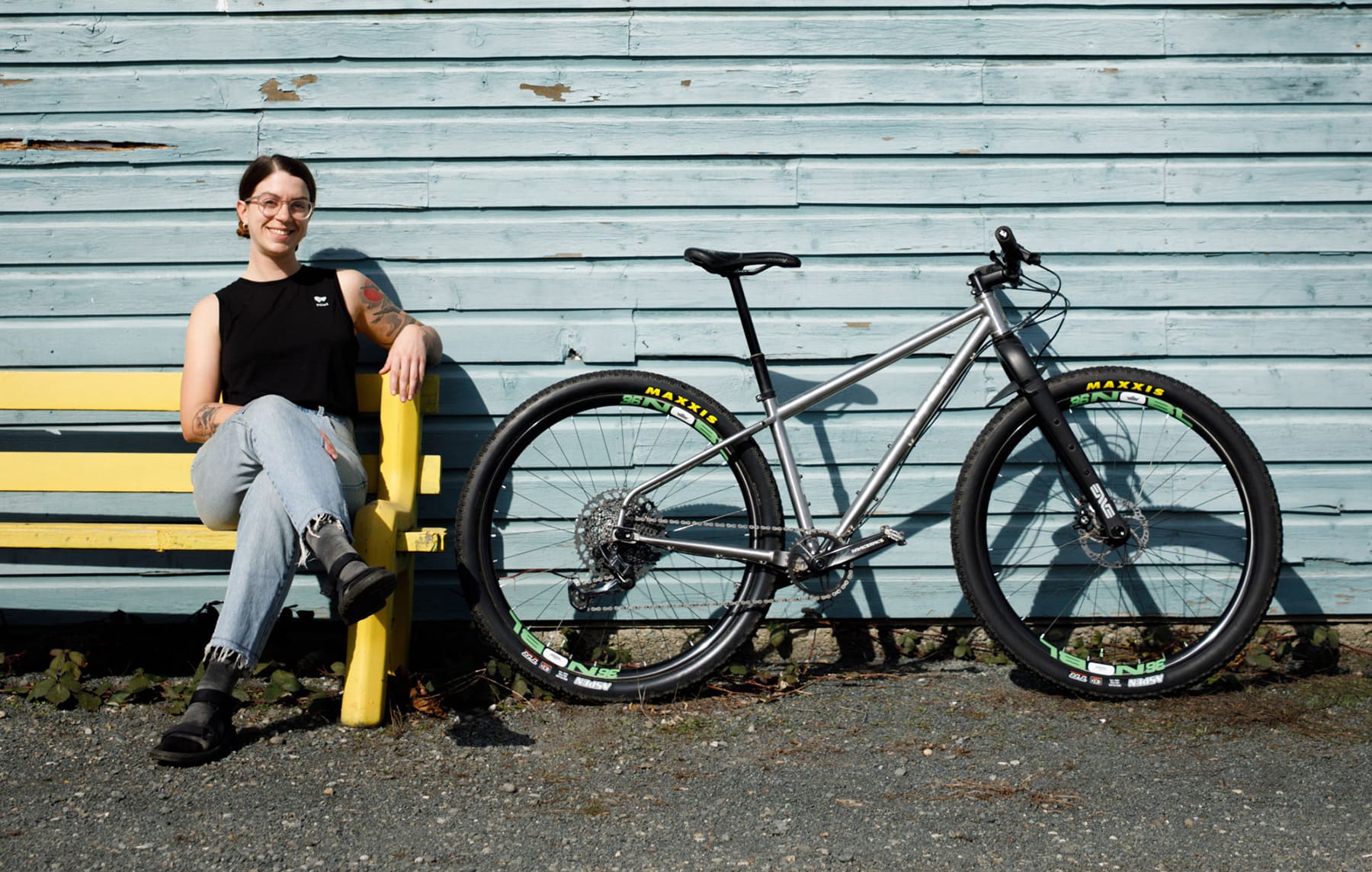 Tatiana's 2022 Otso Fenrir
I definitely don't take living so close to our sweet Cumberland Forest trail network for granted, but readily admit that gravel, adventure riding and bikepacking is really what excites me most on the bike and mountain biking comes second. After a good amount of bikepacking experience I knew that with my next off-road rig I never wanted to feel limited by tire clearance or the roadie geometry and fit of many bikes out there and that I needed a bike that was a capable partner when rides get "Type 2 Fun" as well. I like chunky, varied terrain, fun descents and am not precious about the odd bushwhack or river crossing, so "no frills' frame designs appeal to me and stout climbing gearing is a must.
The Fenrir was released by Otso last year and I immediately thought "Dang, that's the one". The lean towards mountain bike geometry and flat bar option allows incredibly fun handling and running a 120mm fork when needed and I love that I get a 10-52 cassette. The flipchip feature on both front and rear dropouts allows adjustment of the wheelbase and trail for different feels, though I tend to keep it shortened up in the front and long in the back for max tire clearance. It's stainless steel and feels so light, nimble and totally comfy for long days out, and equally solid loaded up with gear. Plus a raw bike frame always looks cool, in my opinion.
I honestly wanted to see how one of our more value-focused builds would feel after running our Sinewave rims and higher-end hubs on my trail bike, so I chose the TR36 rims laced to Industry Nine 1/1 hubs. I run a 2.25" tire day-to-day and a 2.4" when I know the going is going to be rough and singletrack-heavy, and can even rock a 2.6" on these rims (desert bikepacking I'm looking at you). I like the slightly deeper, stiffer profile of the TR36's and the 1/1's are great- they don't buzz quite like Hydras and I was impressed with how responsively they roll. I think I'll keep a rotating colour pop in the decals to play with the understanded frame and fork it's always silver nipples over black for me.