2021 Women of NOBL
We're fortunate to have an incredible roster of ambassadors who represent the NOBL brand across the world, putting our products through their paces and providing valuable feedback that goes right back into our design process. Today we're thrilled to showcase the three incredible riders who are helping us establish a women's program we look forward to growing for years to come.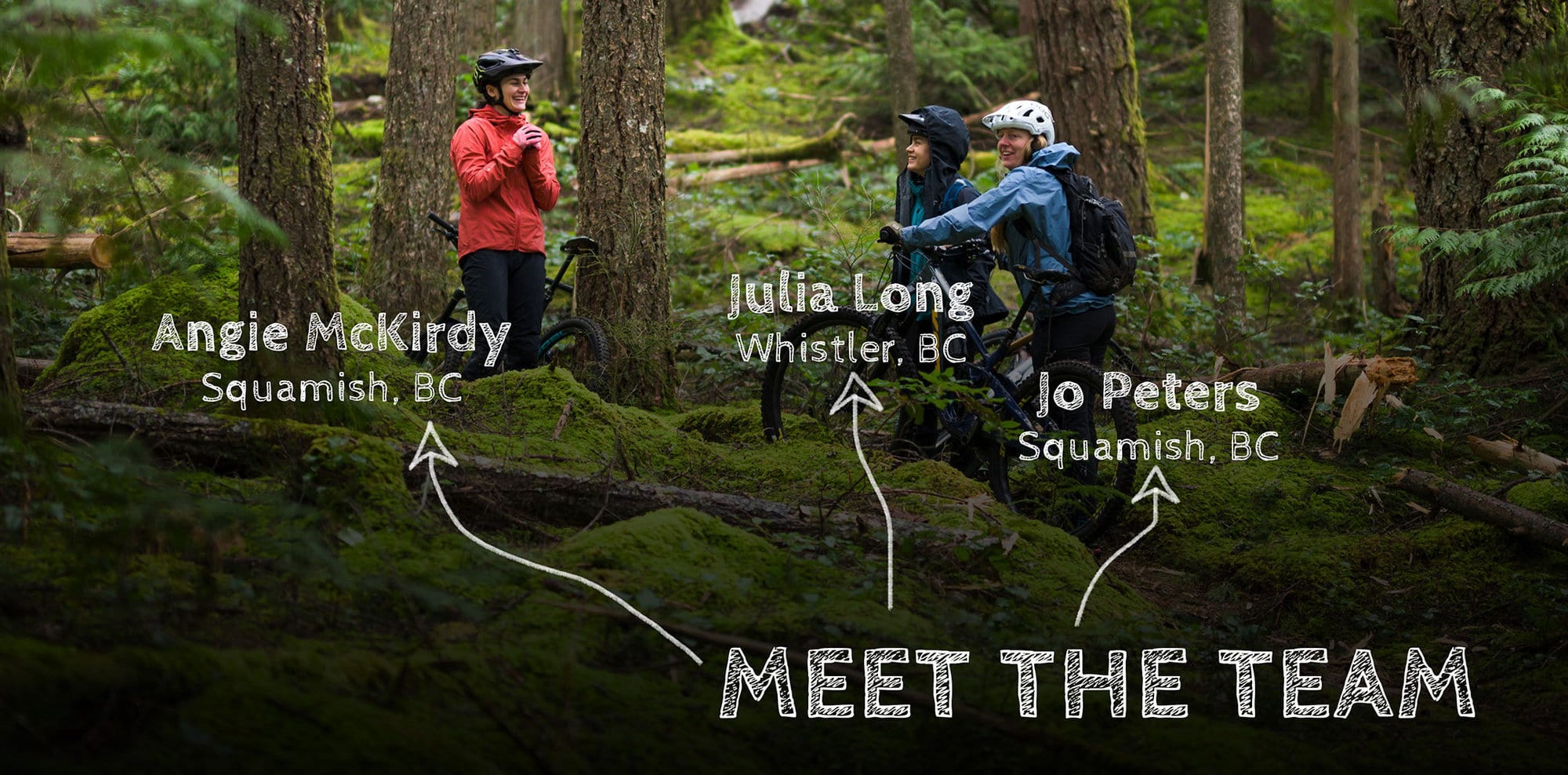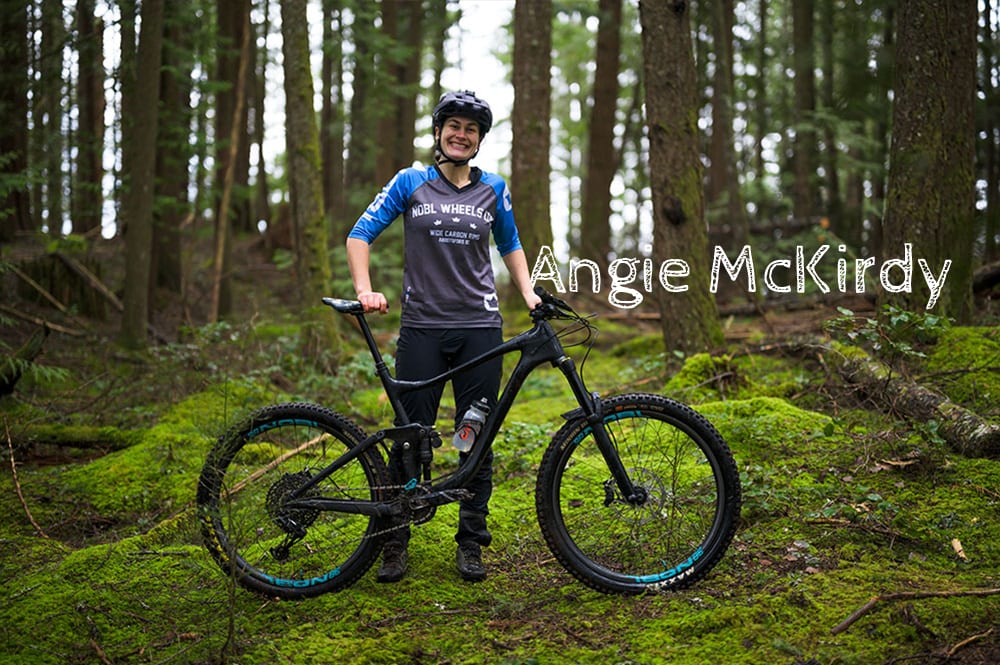 Angie McKirdy
Originally hailing from Valemount, BC, Angie McKirdy is an X-ray technician by day (and night!) who loves riding her bike in the Sea-to-Sky corridor with family and friends. Her favorite races are the long, arduous ones that push a rider both mentally and physically. When she's not out in the wild with her bike, she spends her time drawing, gardening, and stealing neighborhood dogs to take out on walks.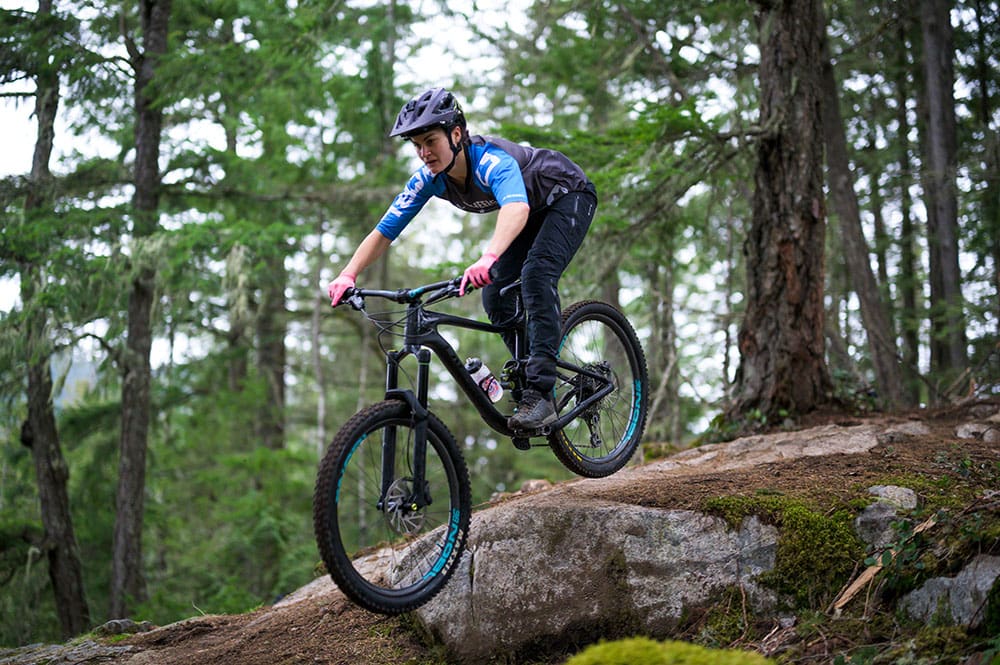 A Beginning With No Trails
"I started riding bikes in my hometown of Valemount B.C. People may have heard of Valemount and know about the incredible bike park the town now boasts but growing up there, the park didn't exist. I learned to ride on a hardtail, riding down old hiking trails and horse paths. There was no such thing as shuttles or climbing trails. I went out with my highschool mountain bike club for the adventure, for the social aspect and for the community. My older sister is a retired World Cup XC racer, and I spent my teenage years profusely sweating trying to keep up with her, my mentor.
Riding my bike these days means much of the same thing for me. I still ride for the adventure. I still ride for the social aspect. I still ride for the community. Of course I love the mountains, the long ribbons of lush singletrack and adrenaline injected downhills, but I think truly the greatest thing about cycling is the community. I have rarely had conflicts out on the bike trails. I think the outdoors, the freedom and a healthy dose of endorphins can really bring out positivity in humans."
Angie's Favourite Local Trail
"Angry M in Squamish. The trail is amazing. I've had some of my worst crashes and best triumphs on that trail. It rides well in the wet or in the dry and is my ultimate "go-to" trail to test any new changes that I've made to my bike. Lately I've been trying to experiment with different line options in the corners. Every time I ride it I am tempted to ease the brakes off just a little bit more…"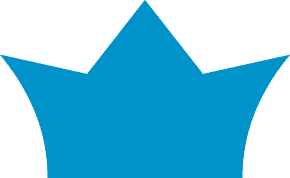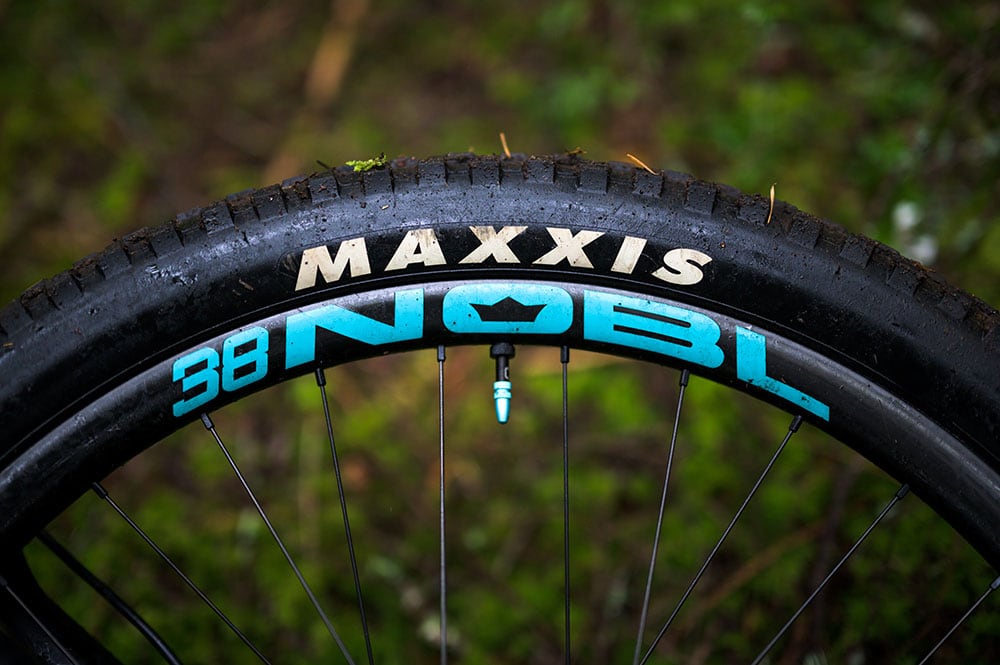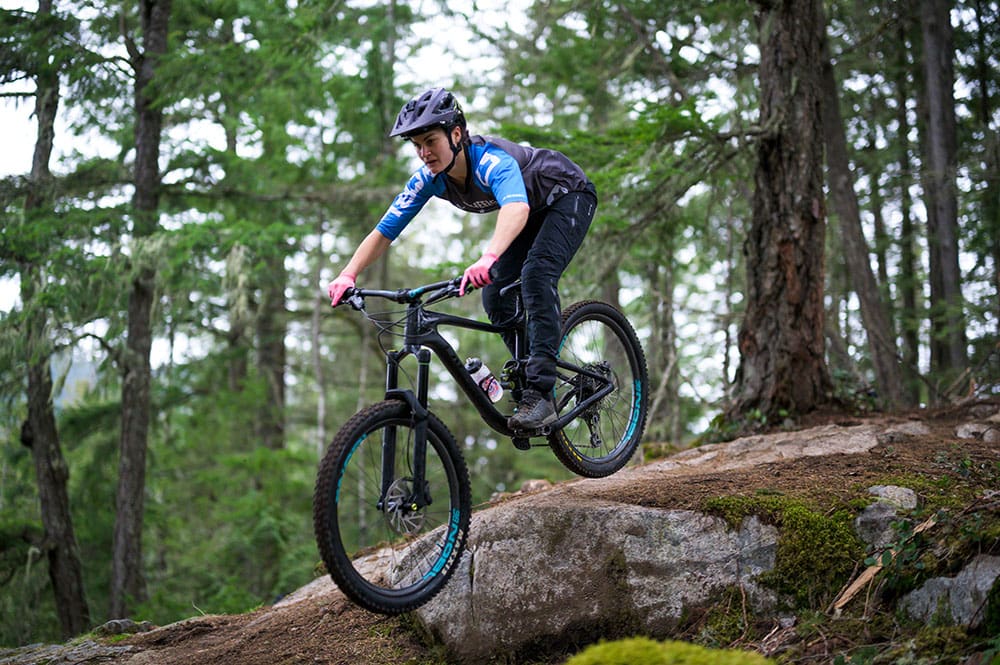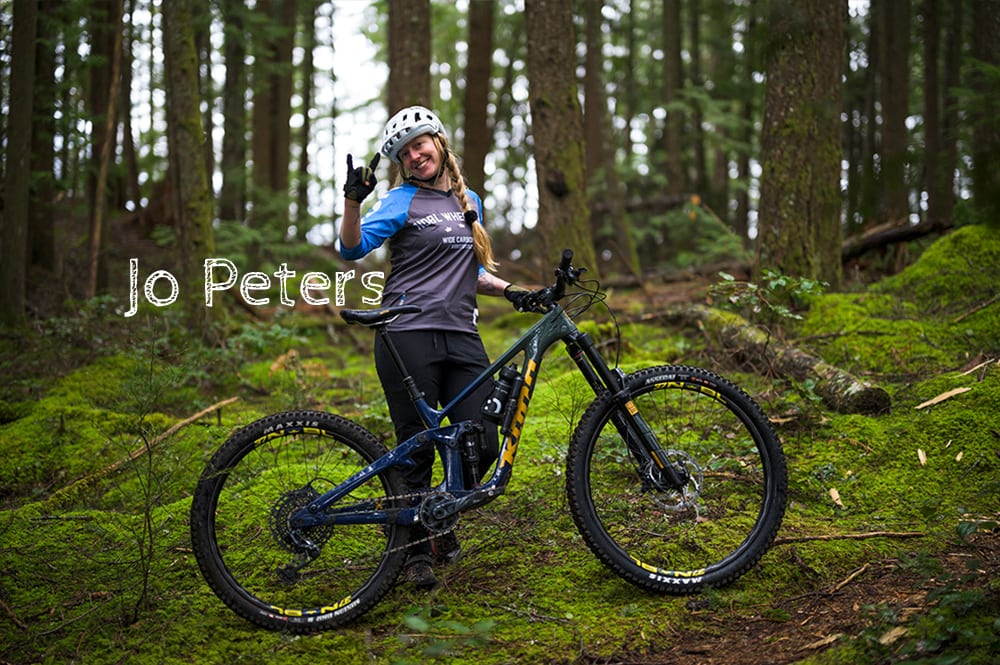 Jo Peters
Jo Peters resides in Squamish, BC. where she's focused on growing MTB-related stoke in a fun and accessible manner. While she enjoys the community and challenge of racing Enduro, she remains most passionate about connecting women to the sport by developing programs in the Sea-to-Sky specifically for women, taught by women.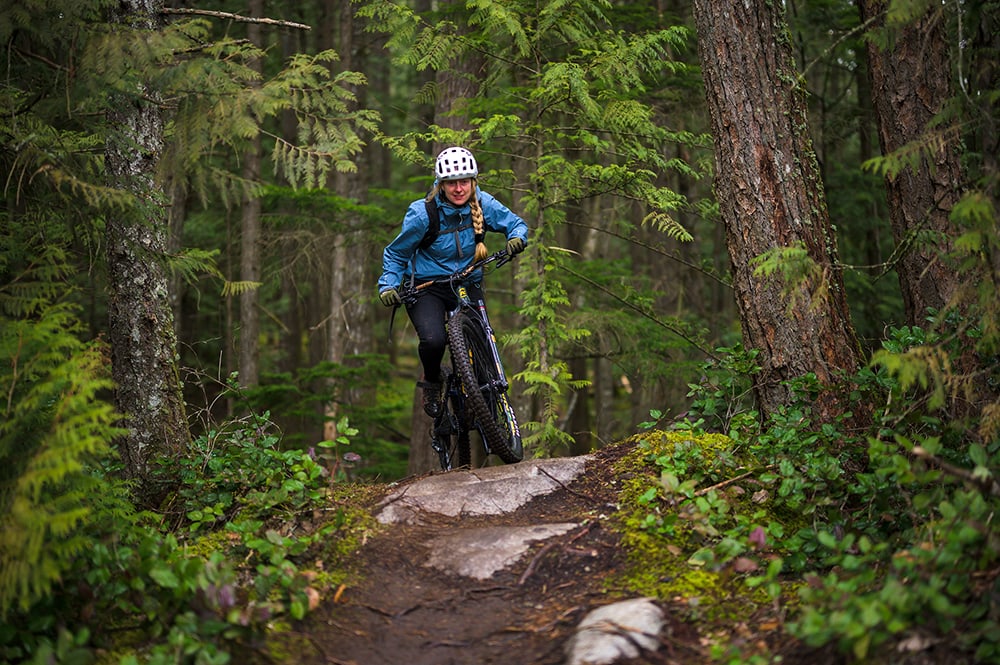 "I grew up dreaming about riding horses. I was four years old and from a family with limited resources, but I did absolutely everything in my power to make it happen. Hours of mucking stalls and other barn chores in exchange for a lesson or two, but I was finally riding!
Twenty years later I felt like I'd plateaued with horses and a boyfriend let me try his mountain bike. I had no idea what I was doing on that first rip but I was hooked on the feeling it gave me. It was similar to riding horses, but better. I got absolutely addicted to the feeling that riding gave me and it always keeps me coming back for more. It's the one thing in my life that makes me feel better 100% of the time, so I just keep doing it. I realize now that I have the chance to help others chase this feeling, and that's become one of my biggest passions."
Jo's Favourite Local Trail
"19th Hole (in Squamish) is amazing because it's steep and raw but very fast. It has everything on it from corners to jumps and drops, high-lines and root gaps. It has enough challenge to keep you on your toes but it's never too hard that you can't ride it. It's a trail that is never the same in any condition!"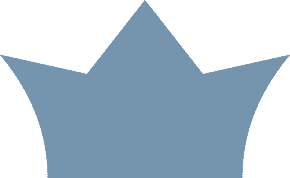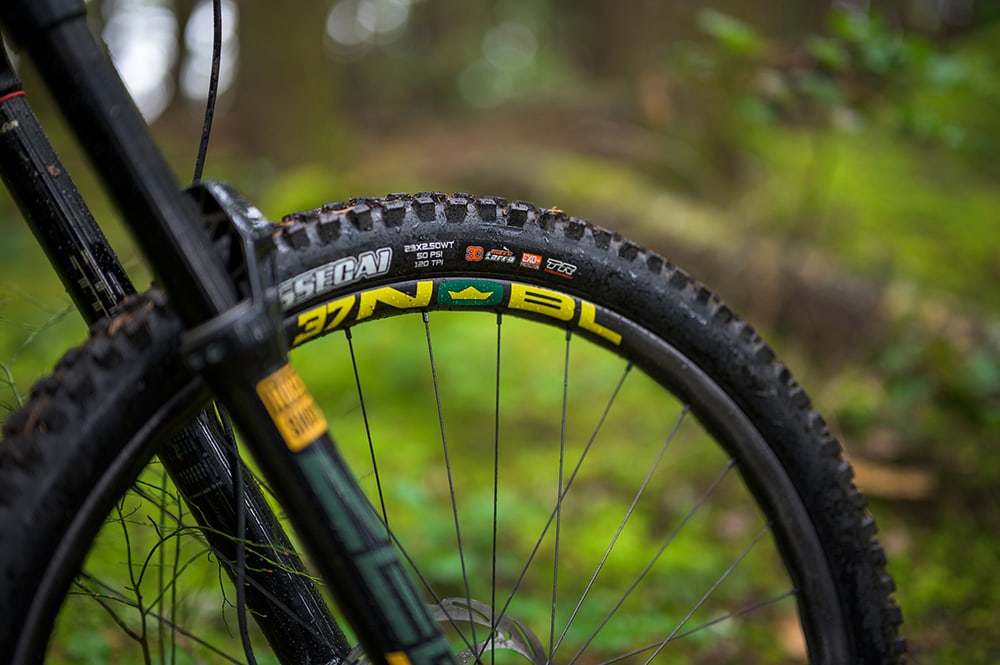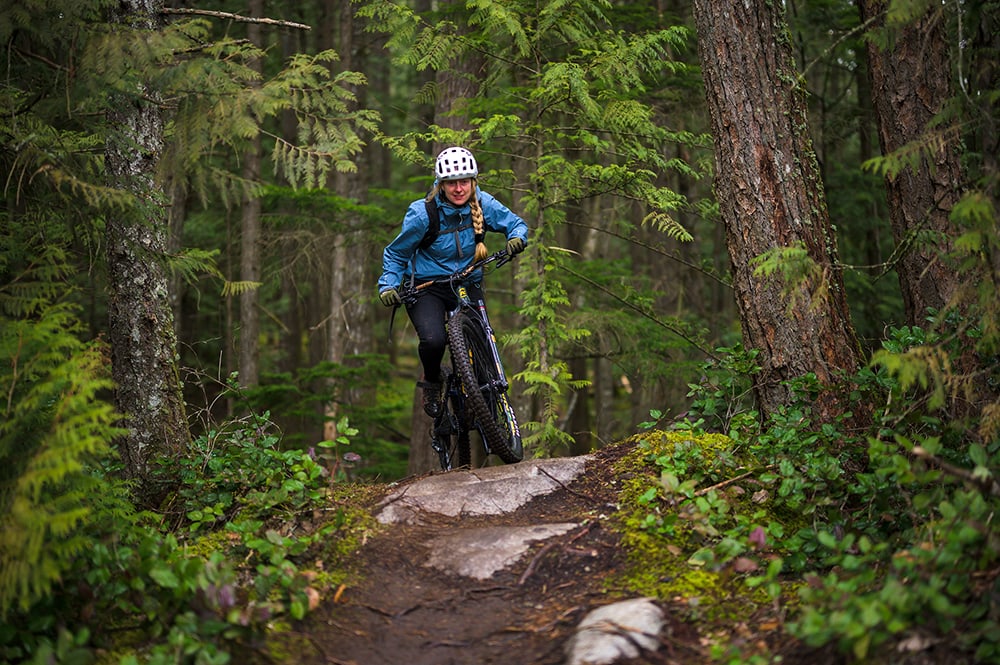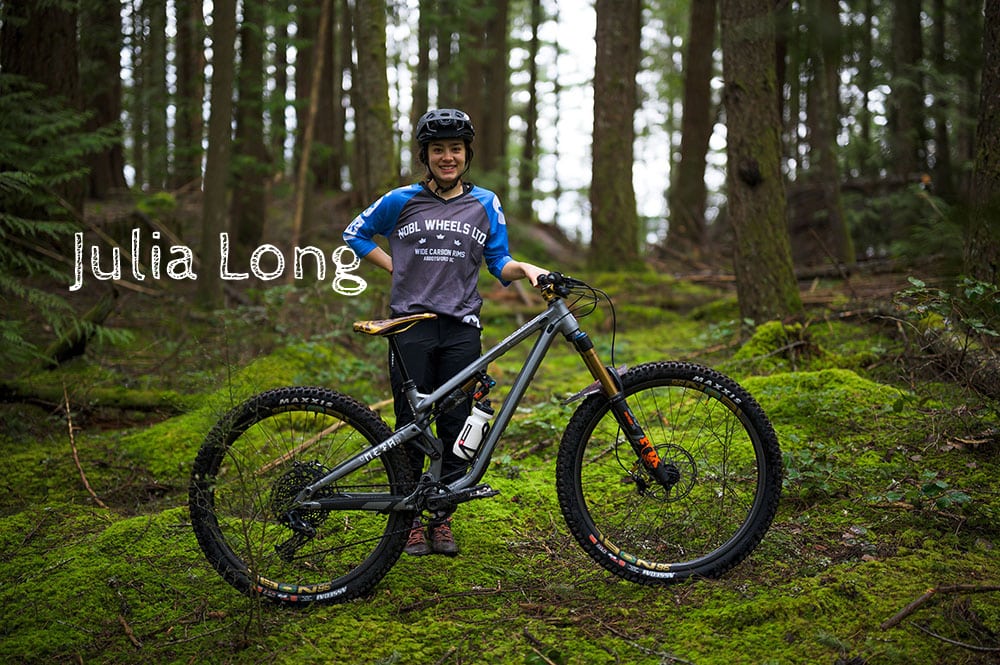 Julia Long
Julia Long was born and raised in Whistler and spends her winters in Victoria where she's currently completing her Bsc in Kinesiology and Psychology at UVic. She got her start racing XC but has been racing Enduro on the national and EWS stages through the last three seasons with a goal of competing internationally in 2021(if restrictions allow).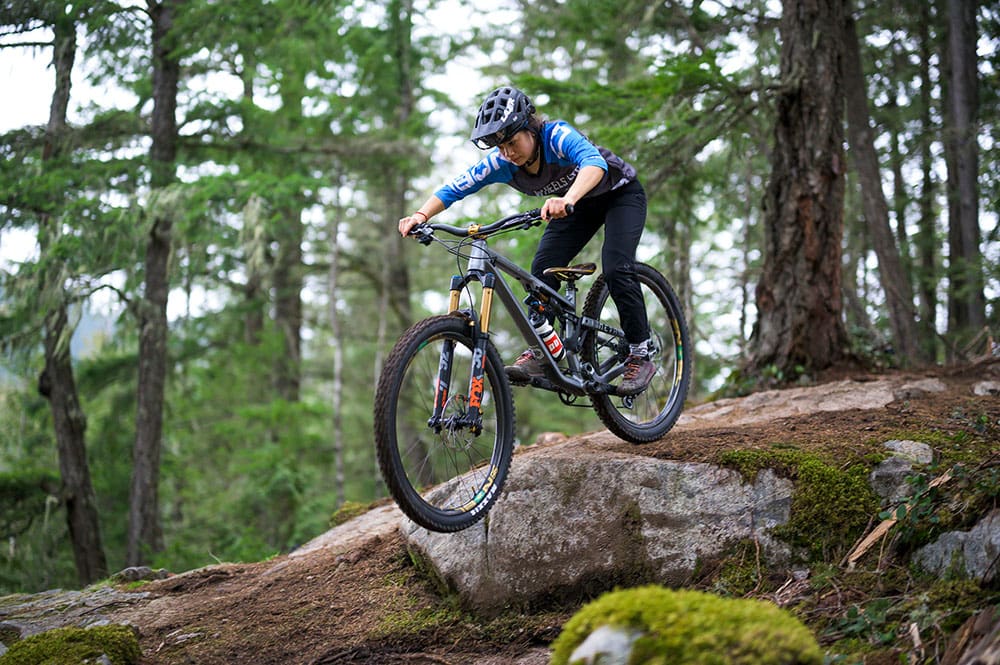 "I first started mountain biking with the WORCA dirt camps when I was a kid and while I hated the first few years, in time I really learned to love it! My love grew as I saw myself progress every year while spending time with like-minded individuals and enjoying the beautiful environment we often take for granted.
I started racing in the North Shore highschool league, which fed my competitive mentality. Apparently, some people (now friends of mine) were scared of me because I was too intense. I went on to race XC for a few years on the provincial team but found that my passion to improve, especially on technical features, (and lack of motivation to red-line for an 1.5 hours) made me switch to enduro.
Although I am a racer at heart, just being outside riding my bike and getting a breath of fresh air has been a very important part of mental and physical health, especially through this challenging year. Even when I feel like absolute crap, going out for a ride (even in the pouring rain) gives me a sense of relief and accomplishment, and often ends with a couple of smiles."
Julia's Favourite Local Trail
"The trilogy segment in Whistler, BC (Rockwork Orange, Korova Milk bar, and Wizard Burial ground). The trails (or some of them) were made by OG Whistler trail builder Dan Raymond, and you can see the specificity in his craft, the rocks are organized in a certain way in which you have to ride precisely, it keeps you on your toes (even after riding them ~30 times). I just like tech and rocks."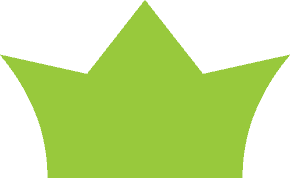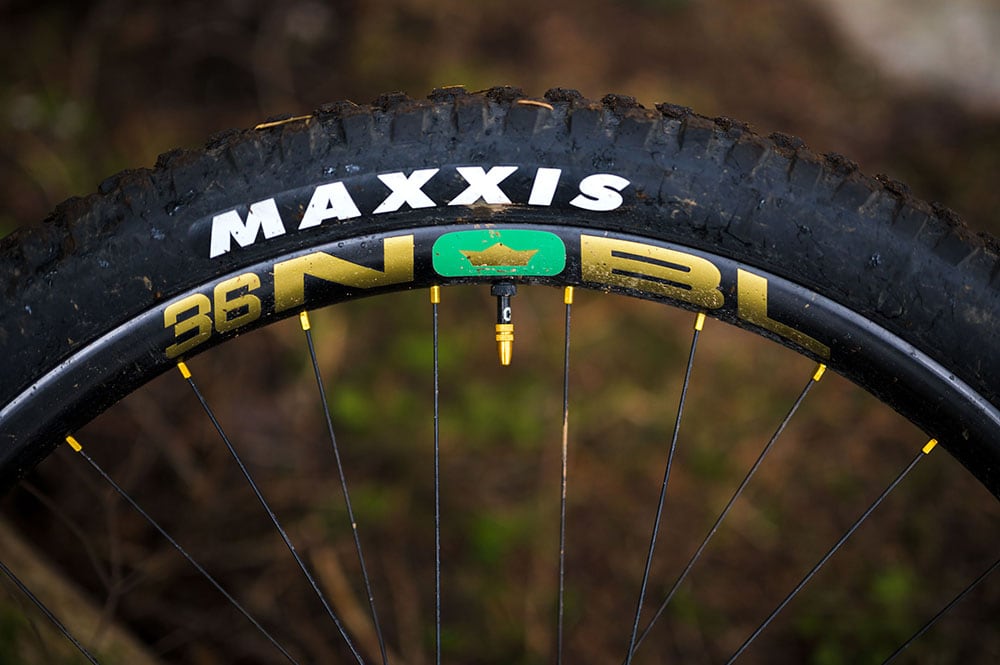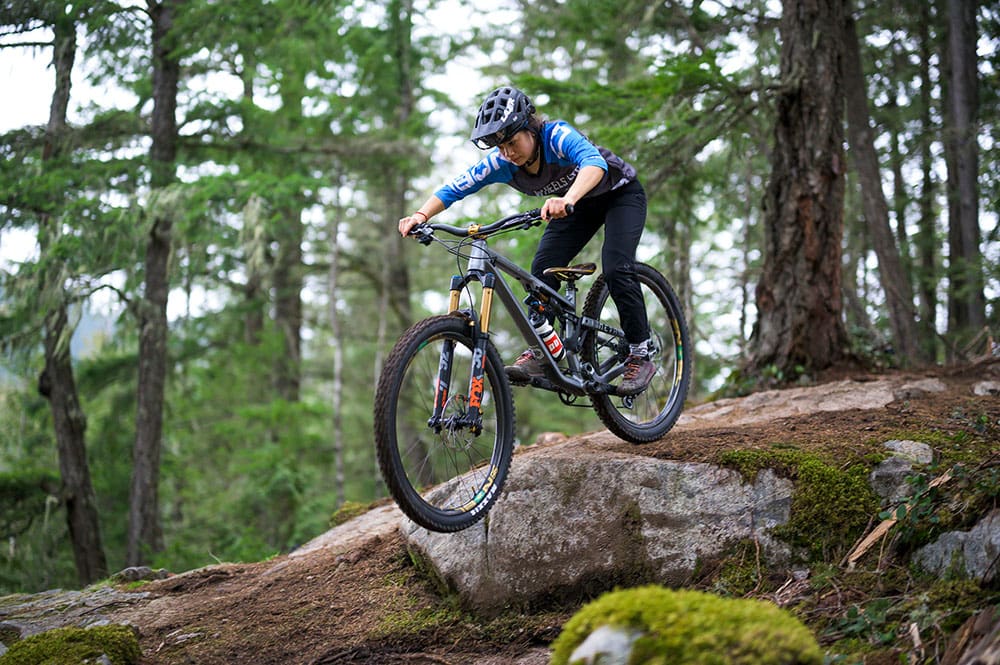 Julia's TR36
Enduro/ All Mountain
These middleweight and mid-depth rims have a popular 30mm internal width making them suitable for a wide array of bikes and riding styles. The industry Nine Hydra sits at the center of these hoops, with Sapim D-Light spokes bringing it all together.
Jo's TR37
Enduro/ All Mountain
Versatile, precise and controlled, this is our take on the ultimate modern trail rim. The TR37 is front/rear-specific, and features our sine wave design!  Industry Nine Hydra hubs tied in with Sapim D-Light spokes keep the bears at bay with their signature buzz.