NOBL Trail Love
Builder Feature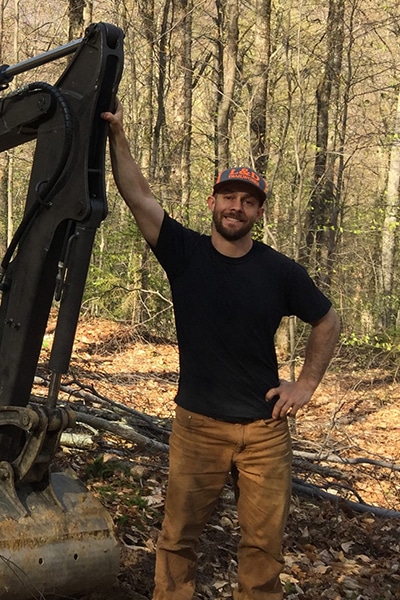 Vermont has had a burgeoning mountain bike scene since the early days of mountain bikes. Sitting on the Appalachian mountain range, the hilly terrain is full of lush hardwood forests, rich earthy clay-based soils and plenty of granite. The result is the perfect sandbox to create incredible flow trails, technical rooty lines, or some classic rock drop-offs.
Tom has dedicated his life to creating trails and recreational opportunities for riders of all abilities. With an incredible level of experience and expertise, he is able to create trails that blend the perfect amount of flow, tech, and challenge.
Who are you? What's your story?
Accidental lifelong trail builder. Biking got its claws into me early and never let go. I got into biking like most every kid. Freedom and that addicting feeling of learning something new. My brother and I built endless trails growing up. Mostly shitty ones. Like a magnet, trail building sucked me back in after college and I wound up helping build HMBP from early on and stayed for about a decade. I loved it but was also burned out and with a new family, I couldn't make it happen anymore. Got word of some trail-building projects in Vermont and took them on in the interim. Five years later I live in Vermont and about 98% of my work is trail building. I trail build because I still get that feeling of learning something new when I ride a new section of trail that works just right. I love to see people getting that same feeling and just getting out there in general. I get equally excited about building a dirt ribbon that's going to get kids out there as I do a harder trail mixing machine-built berms and jumps with rocks and ledge. So long as there's a purpose and the trail has soul I'm excited to be building.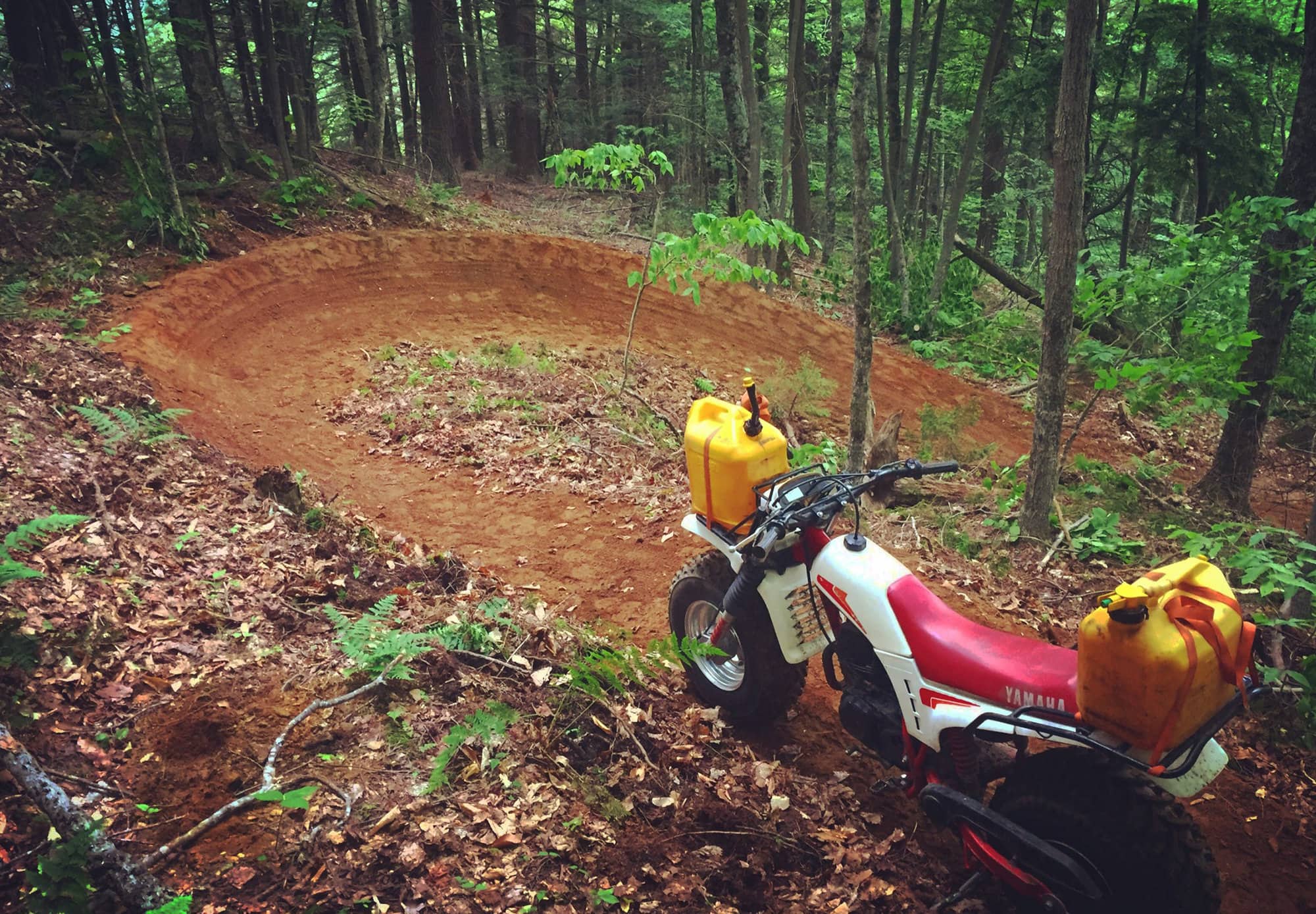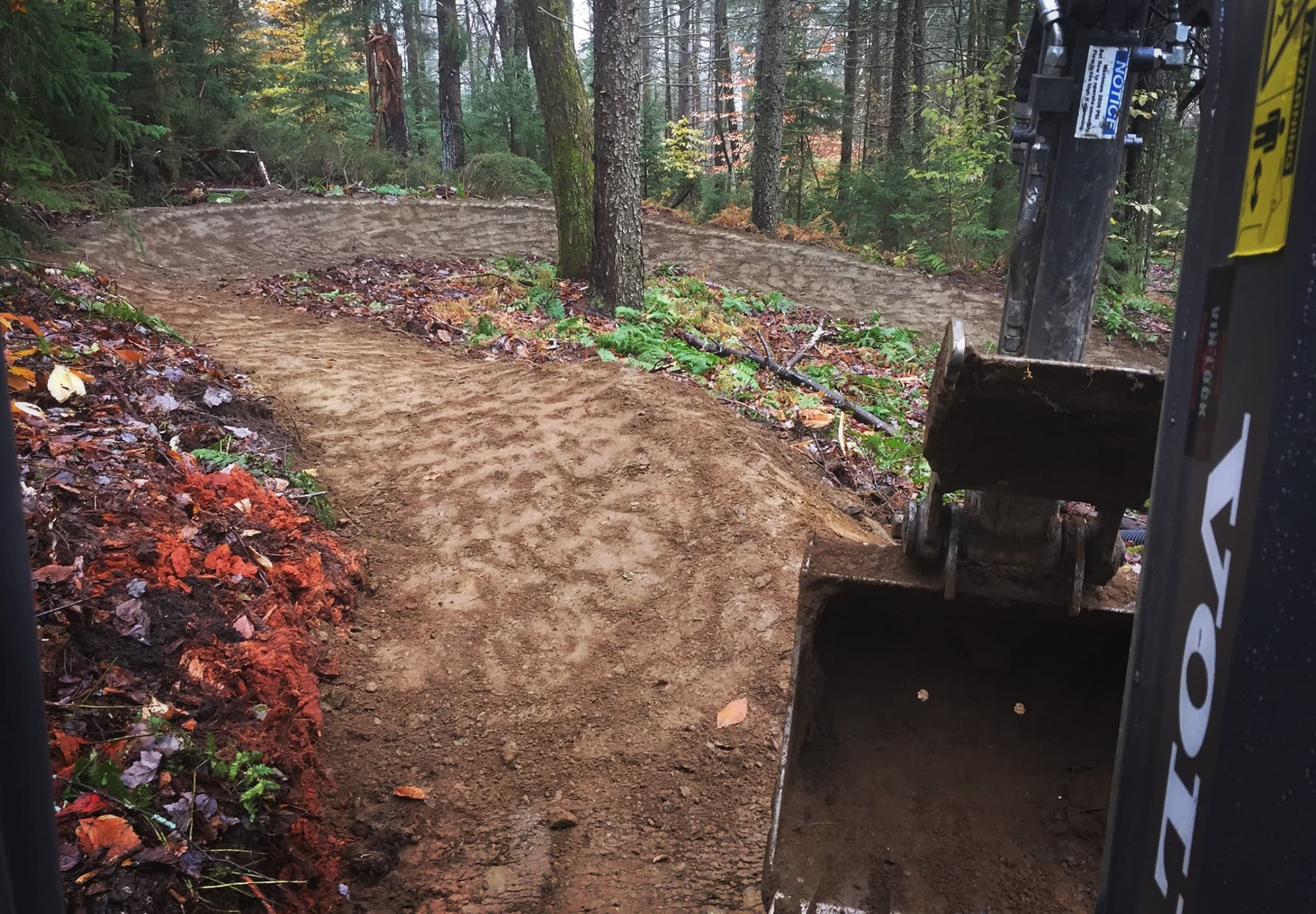 The climb to the peak is about 2 miles of switchbacks winding through ledge outcroppings and several different forest types. At the peak there are some massive ledge faces and a view back down into the valley. The main part of the descent is a directional ribbon that winds back and forth between down the opposite side of the mountain. This part of the trail, the payoff, is quick, packed with berms, jumps and is also fairly narrow. The top half includes a few different features using the natural ledge and tons of options to take jumps deep into the uphill backslope. The second half winds back around to the same side you climbed up. It's still very fast but sort of chills out a touch and is full of tall berms and you can no-break a lot of it if you're brave. The trail runs out back over to the climb trail about ⅔ of the way down so you can hop back on and lap it again.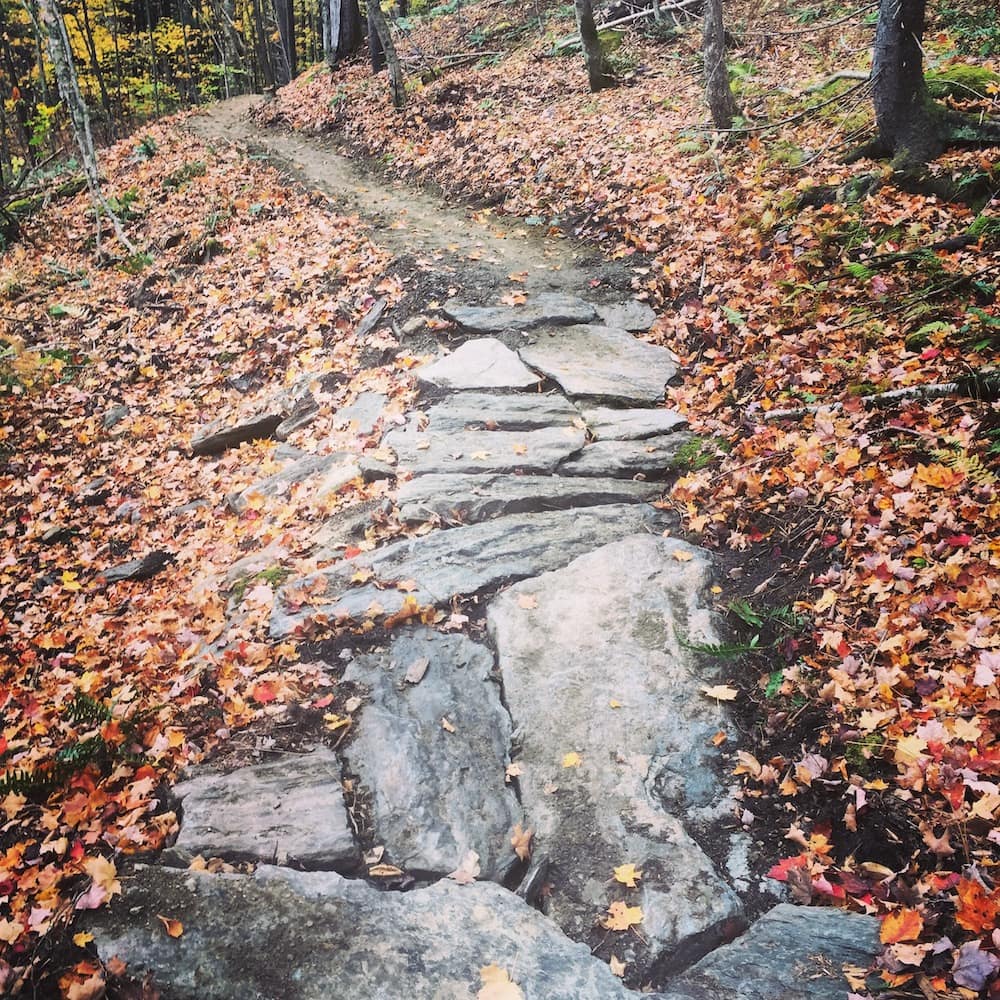 The trail is built on USFS land in Rochester, VT. The local trail organization here (RASTA) did an immense amount of leg work to make this trail happen and logistically it was difficult to find a way through with all the ledge and some wet areas. We were able to find some very creative alternatives to the expensive bridges that USFS specs require by using flat rocks to build rock hardened crossings. I definitely had some hard days out there battling rocks. I also spent about a month of this build on crutches after a bizarre off on my bike in a parking lot. Hauling fuel on crutches, kicking my dirt bike over with my hand and strapping my crutches to my excavator was not ideal but It all worked out and made for a unique trail.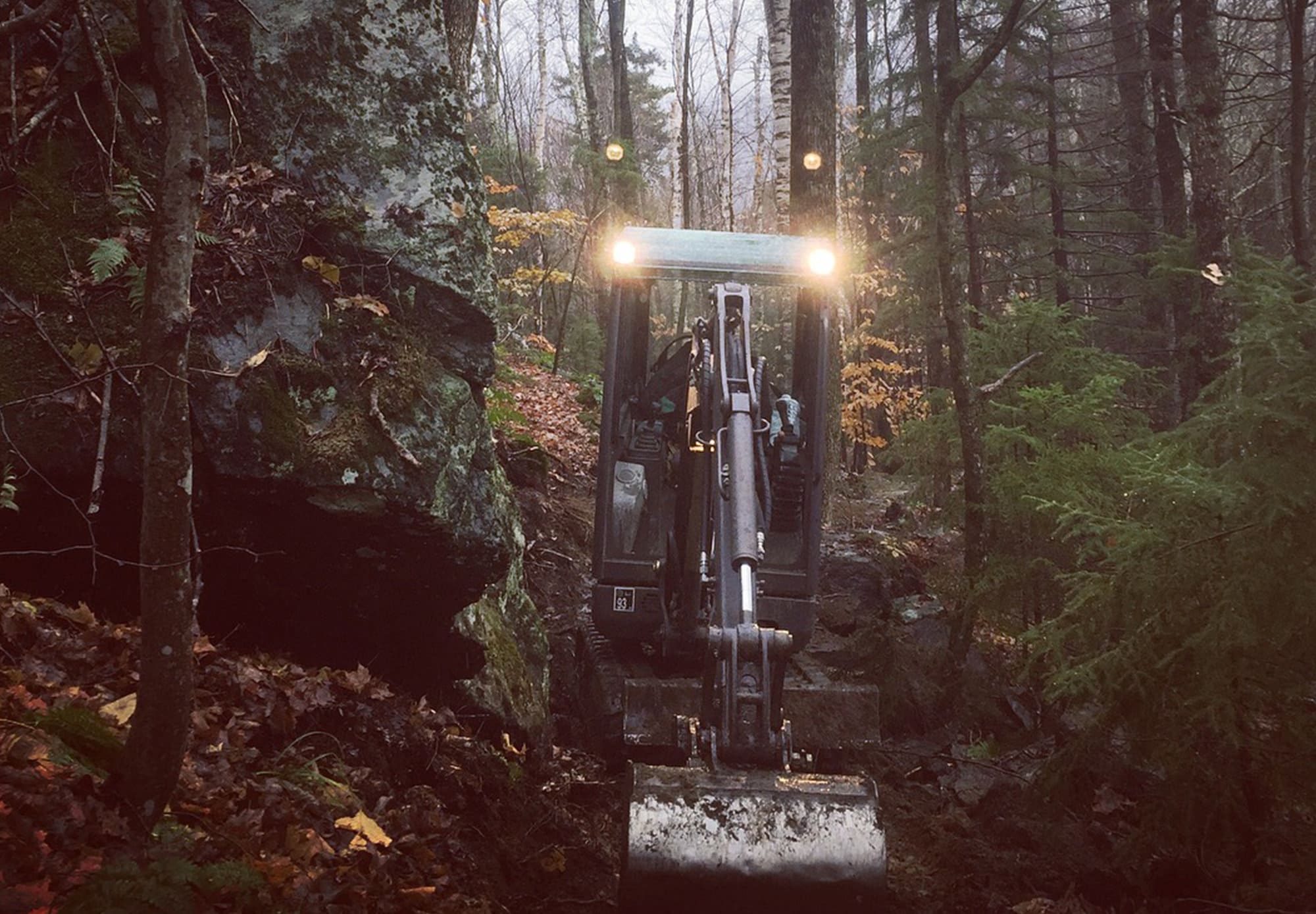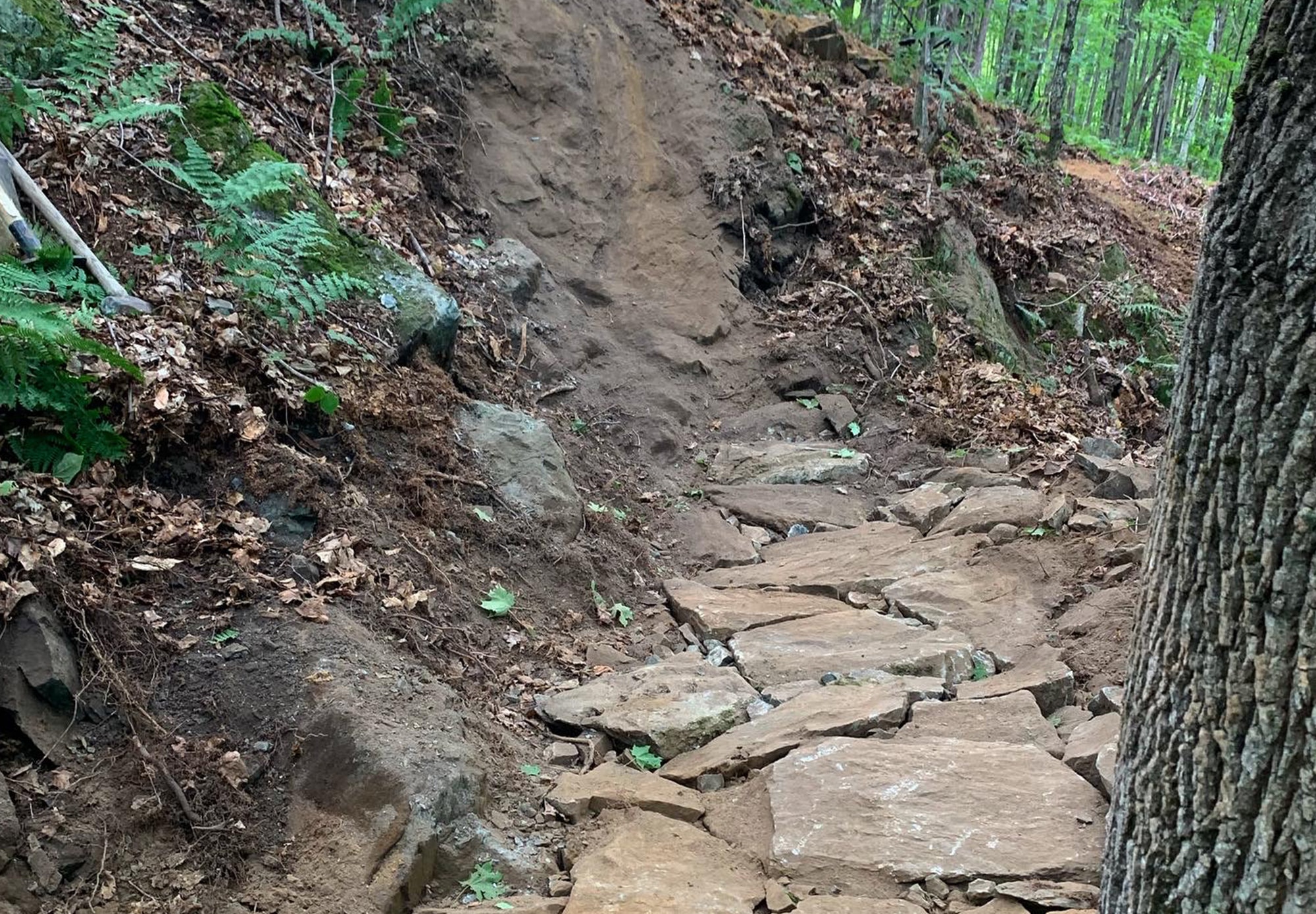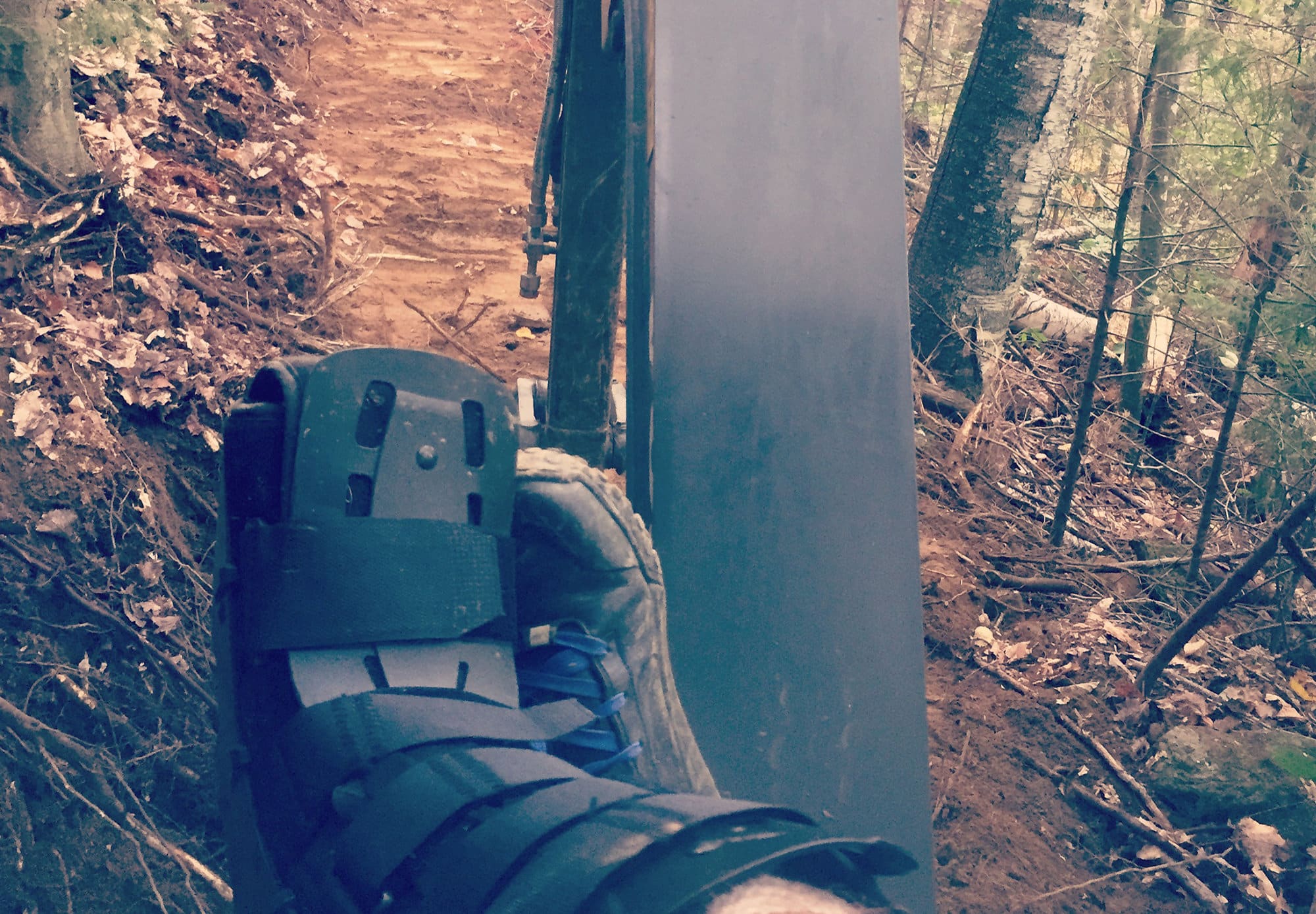 "Impressive rock work, nice photos and dedication, building with a broken foot!"
– Merin (Customer Service)