NOBL Trail Love
Builder Feature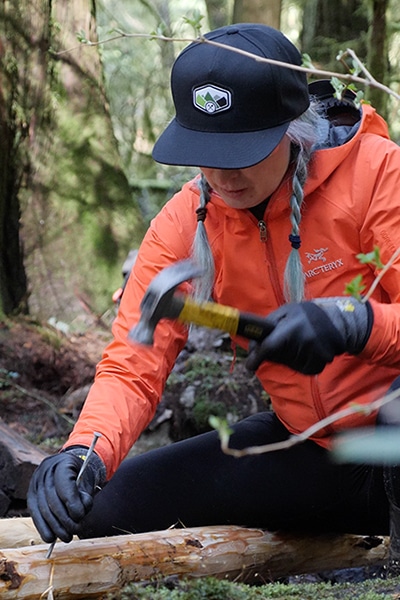 The North Shore of Vancouver needs no introduction. The often coined birthplace of modern mountain biking, It features some of the most technical riding in the world. Intricate woodwork nestled in natural rock and a whole lot of elevation mean that the trails here are typically fast and not for the faint of heart.
Penny is heavily involved with two of the busiest trail associations in the Sea to Sky Corridor. From an administrative standpoint to putting shovel to dirt, she's done it all. Including being an integral part of creating one of the highest-trafficked climb trails on Vancouver's North Shore.
Who are you? What's your story?
Trail work has been my lifeline for the past 8 years. It's allowed me to connect with nature and the land while also helping me build friendships and community. I build for many reasons – to spend time outside and get my hands dirty, to immerse myself in the forest and nature, to give back to the forest and the trails and all who use the trails, to share these experiences with others who also enjoy time outside. I relish the problem solving of fixing drainage and erosion issues and revel in opportunities to be creative in building features, shaping the trail, and creative fun experiences for others. I find joy in the pleasure that the work I do brings to others who ride, run, or hike the trails I work on. I am very fortunate that I get to do this for a living as the Operations Manager for the FVMBA. My responsibilities include trail work but also a lot of behind the scenes advocacy, leading a trail crew, and teaching trail users about caring for the trails we all love. Outside of trailwork, I also teach health and nutrition at SFU.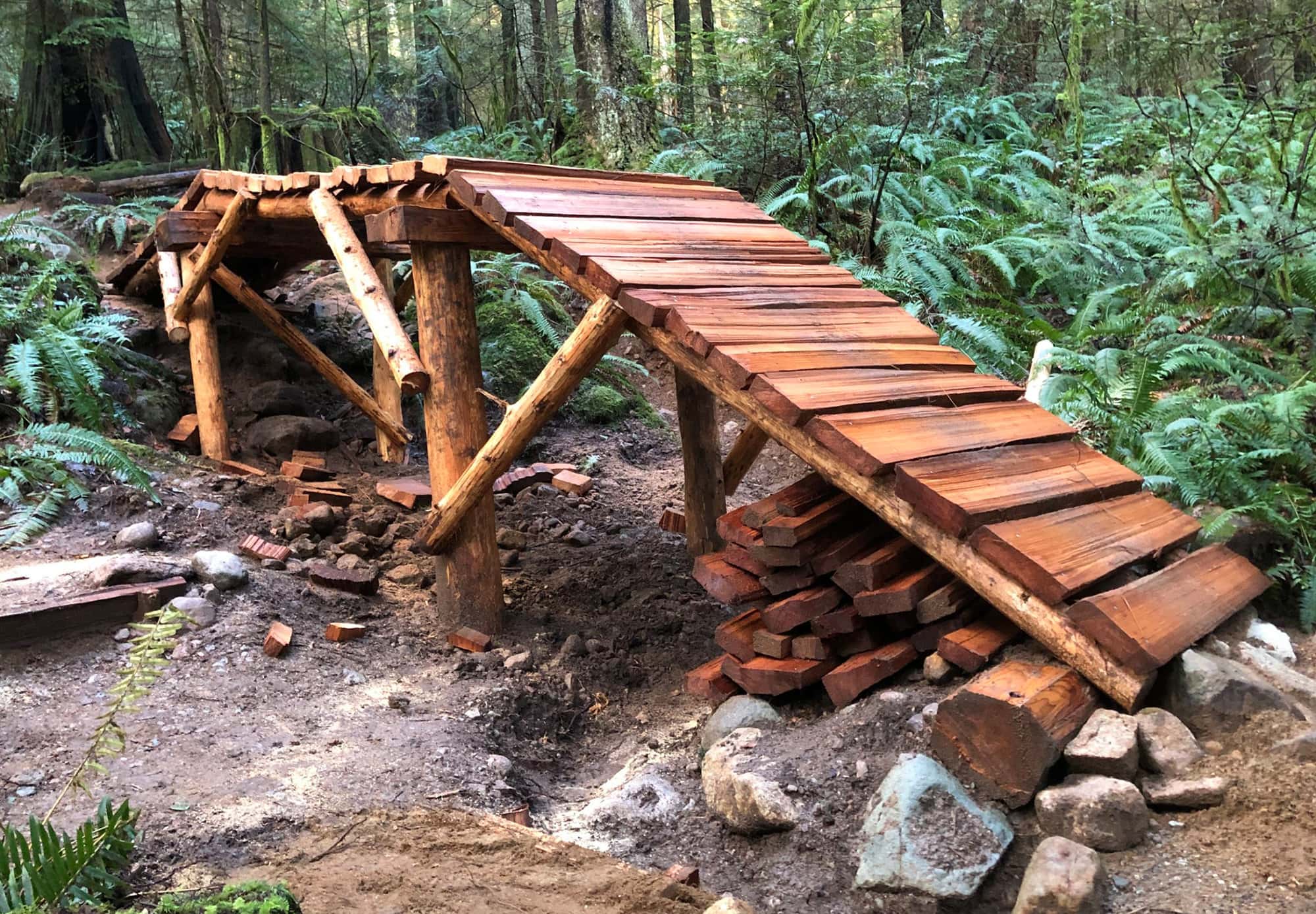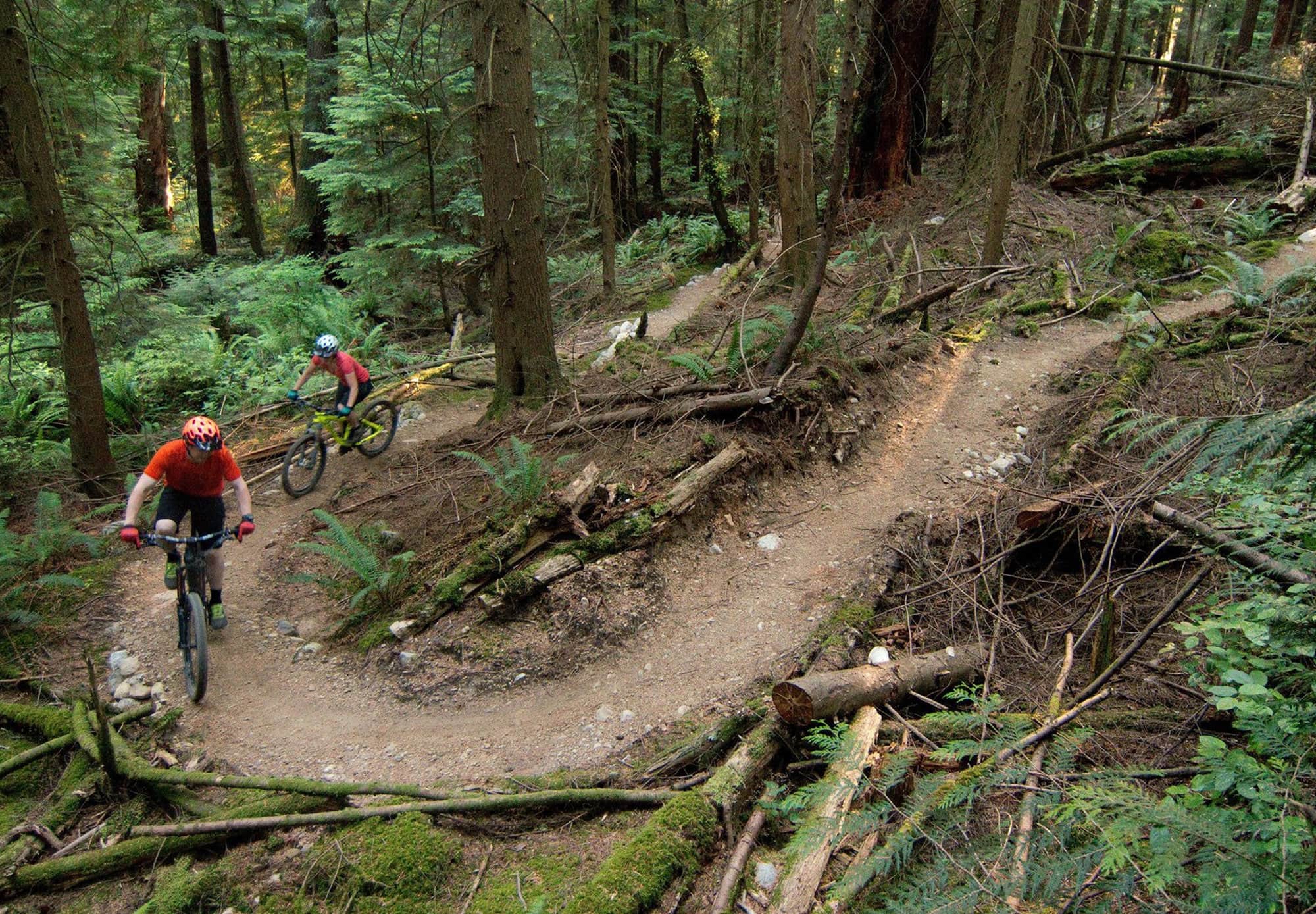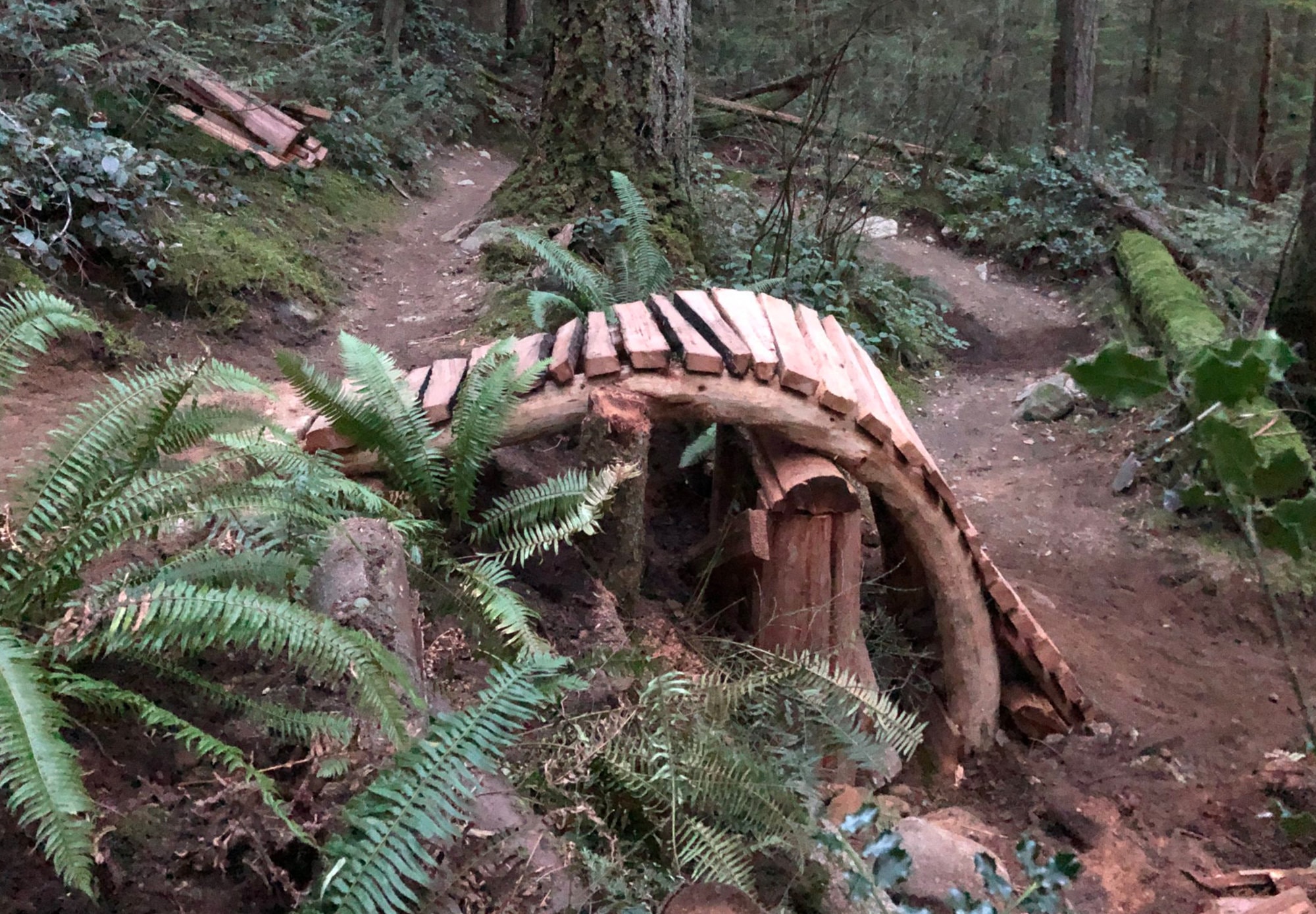 This and the next question are a bit of a challenge, as where we are, new trails are exceedingly rare to build. Most local builders now look after and maintain pre-existing trails, sometimes one that they built, but often inherited from a builder long gone. Also, the trails I look after aren't "my" trails. I live on and look after trails on the unceded territory of the Tsleil-Waututh, xʷməθkʷəy̓əm (Musqueam) & Skwxwú7mesh (Squamish) Nations. I have the honour of caring for them and for the surrounding forest. For this question, I choose to describe Severed D on Seymour, one of the trails I have cared for over the past 8 years, but I am not the original builder. The trail begins with an upper fast section, natural flow with roots and rocks. After crossing another older trail, Severed splits. The original line is steep and steppy with options to roll through it or if a rider has the skills, airing over sections. We built an alternate smoother, less steep line a few years ago as Severed provides access to two very popular blue trails and the steep line was getting eroded. After the options merge, the next section of the trail is a natural pump track – can you ride it all without pedaling? There are a few optional skinnies low to the ground to add a little extra if you choose. Once you pass the junction with the popular trail John Deer, Severed becomes steeper and rougher. Rooty corners, jumbles of rocks, and options to catch a little bit of air. Many years ago, a number of logs fell across the trail and were incorporate as either rolls or airs for small hucks. A year ago, a large fir fell on the trail – the perfect opportunity to turn into a log ride. We winched it off the trail and built an entry ramp through the root ball and various options to exit depending on how adventurous you feel. The classic move on the trail is a steep chute leading to several rock drops that can be aired or rolled depending on your line choice. Recent additions to the trail include an optional wood roller made from two curved cedars and another wood feature that can be rolled, hucked, or jumped, depending on your skill and style. The final section of trail is again fast and twisty. Everyone always finished with a big smile on their face. We took on looking after the trail as it had been neglected and turned into a mess of mud that very few people rode. Restoring the trail has restored it's popularity.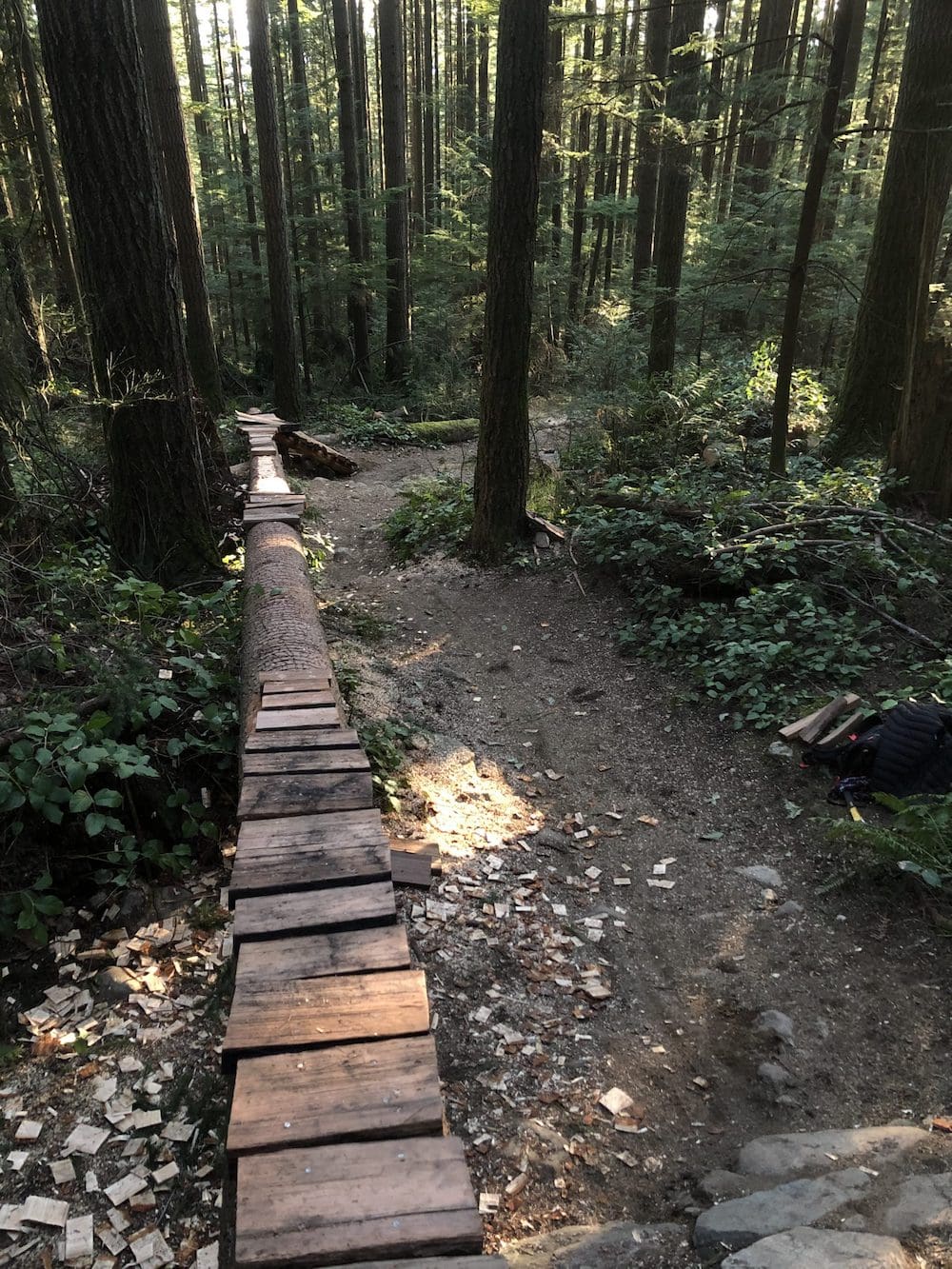 For this question, I'll describe the climbing trails I built with a friend. Pussyfoot, Penny Lane, and Good Sir Martin are blue-rated singletrack trails that wind through the forest, shaded by cedars and firs and hemlocks. The trails were co-built by myself and a friend, Martin Newman. We were inspired to build them to improve the connectivity of the trail network on Seymour. While the mountain is easily shuttled, and a double-track grunt of a climb already existed on the east side of the mountain, many descending trails dropped farther west. The climbing route we built eliminates the need to traverse back across lower Seymour and also enables many of the lower trails to be connected.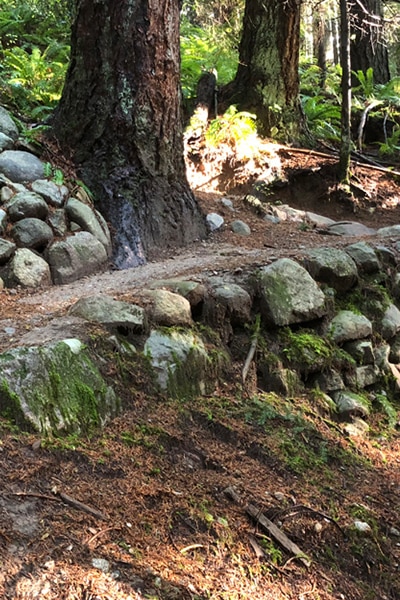 What are some highlights?
It took 9 months and 1999 hours to build. We have nicknames for many of the sections – Christmas Corners was built over Christmas and we now decorate it each Christmas with lights, Jelley Roll is an optional rock roll named for a friend who helped with the build and suggested the line be incorporated into the trail. We built at night with lights, we built in snow and rain, we built from dawn to beyond dusk on many days. We made many friends and many memories through the process. A friend documented our progress with a
photo essay
.  Today the trail is the highest trafficked trail on Seymour.
"I like that she put her time into a climbing trail that provides access to the rest of a network, which isn't a sexy piece of infrastructure but totally makes everyone's life WAY more enjoyable on a bike."
– Ryan (Wheel Builder)