The most versatile rim in our lineup brings unparalleled performance at an unbeatable price. Now in its fourth generation, the TR33 is an instant upgrade on the handling and performance of your trail bike.
The TR33 is the jack of all trades. Right at home on aggressive XC bike or an Enduro rig, the TR33 was designed to be adaptable to a variety of trail conditions. Throw on some reinforced 2.5″ mid fat tires when it gets rough, or some light XC treads for race day and the TR33 will shine in both situations. The new revised low profile offers the perfect blend of compliance and stiffness, this means exceptional control when the terrain gets rough without rattling your hands off..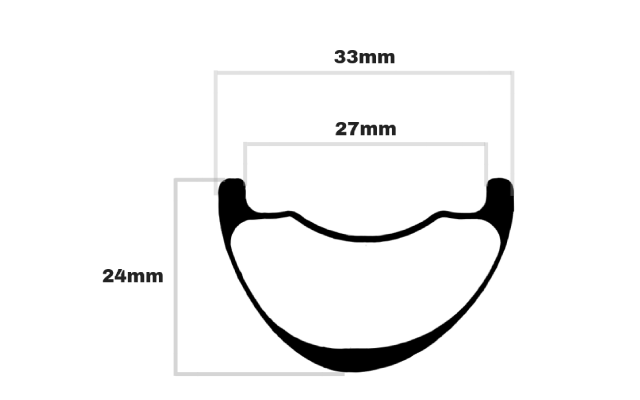 Details
390g (27.5″)
405g (29″)
ERD: 555mm (27.5″)
ERD: 593mm (29″)
32h or 28h
Intended Use
Our most versatile rim has found itself on everything from XC race machines to Enduro sleds. Given that it comfortably supports tires 2.2″ up to 2.6″ it's easy to see why the TR33 is so adaptable.
XC

80%

80%

Trail

90%

90%

Enduro

60%

60%
Handling Characteristics
Perfectly balanced, this rim offers the 'Goldilocks' of handling. It won't be excessively stiff so that your hands and body feel rattled, but at the same time provides a noticeable improvement in handling over an equivalent alloy rim.
Impact Strength

Lateral Stiffness

Vertical Stiffness
5 Year Warranty
Our legacy series of rims come with a 5 year warranty for the original owner. Warranty covers any damage that is deemed a result of a manufacturing defect. Warranty replacement covers 100% of the cost of the new rim.  Warranty does not cover shipping or labour charges. Our crash replacement  policy covers damage that is caused by casing jumps, hitting square edges at speed, backing over your wheel with your Tacoma, and of course a gnarly crash. The crash replacement cost is 50% of MSRP
For more details or to submit a claim, check out our warranty page HERE.

Technical Support
Your wheelset is a high precision component that requires regular upkeep and maintenance to perform at its absolute best. Fortunately we've compiled resources that will be sure to help you with this process.