Our original XC race rim. Built to handle the rigors of British Columbia style Cross Country riding, the TR28 creates a light and snappy wheelset that can still tackle the rough lines with poise.
Built to handle the technical cross country race courses of British Columbia, the TR28 is the weapon of choice for your 100-120mm 29er. Light enough for short track, but strong enough for Marathon Cross Country the 28's have you covered. Ideal for 2.2″ tires, but you can comfortably run 2.0″ or 2.3″ to meet the unique demands of your ride. The TR28 has also found itself in the perfect position for gravel bikes looking to run higher volume tires.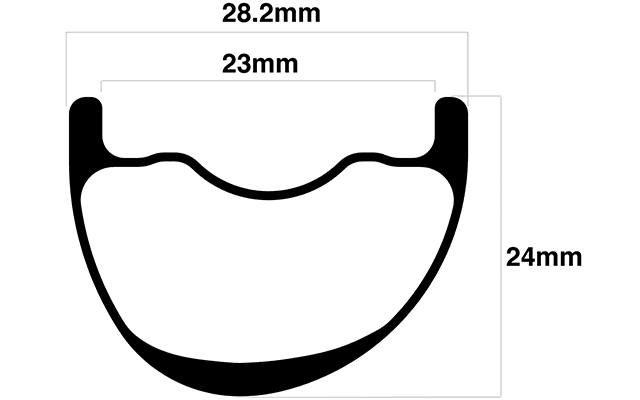 Details
375g (29″ only)
ERD: 592mm 
32h or 28h
Intended Use
Right at home on your short travel cross country rig, or your backcountry gravel bike. The TR28 supports tires from a 35c cross tire, up to a 2.3″ trail tire.
XC

100%

100%

Gravel

90%

90%

Trail

60%

60%
Handling Characteristics
Light and compliant, the TR28 is a significant upgrade over an equivalent alloy wheelset. Improvements in handling precision while offering the right amount of stiffness make for a snappy wheelset.
Impact Strength

Lateral Stiffness

Vertical Stiffness
5 Year Warranty
Our legacy series of rims come with a 5 year warranty for the original owner. Warranty covers any damage that is deemed a result of a manufacturing defect. Warranty replacement covers 100% of the cost of the new rim.  Warranty does not cover shipping or labour charges. Our crash replacement  policy covers damage that is caused by casing jumps, hitting square edges at speed, backing over your wheel with your Tacoma, and of course a gnarly crash. The crash replacement cost is 50% of MSRP
For more details or to submit a claim, check out our warranty page HERE.

Technical Support
Your wheelset is a high precision component that requires regular upkeep and maintenance to perform at its absolute best. Fortunately we've compiled resources that will be sure to help you with this process.